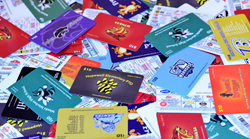 Kids in today's world want to compete globally
KNOXVILLE, Tenn. (PRWEB) December 13, 2017
Today, there are children across the country that cannot compete in sports and life, simply because they lack the funding from their local communities and governments. There is one group that is out to change this. Discount Fundraising is a national fundraising discount cards company that will provide much needed funds to children's groups for items needed in their local communities.
Studies show that sports and quality education provide youth with the ability to have successful lives as adults. But, there are many young people throughout the nation today that simply have less opportunities than others. Kids in today's world want to compete globally. This is why many parents turn to local fundraising to give their children a much needed step up on the ladder of life.
Discount Fundraising provides high profit fundraisers to these parents in order for them to succeed in and out of the classroom. The company gives schools, sports teams, bands, and many other youth organizations the chance to raise funds for their group. The fundraising discount cards company delivers high profit valuable discounts from local restaurants and merchants. The children's groups then sell these cards for funding of their teams goal.
Children across the country have achieved unbelievable results from this program. One group in Hawaii plans to raise $100,000 this year alone with this fundraiser as well as hundreds of groups raising tens of thousands of dollars across the United States. There are many groups that only need a small amount of money that this provides as well.
The people involved are excited that 80% of funds raised goes directly into the hands of the children that need it most. There are many opportunities to raise funds these days, but few offer such a large return on investment.
Discount Fundraising will continue to help kids and also continue to prosper in doing so.