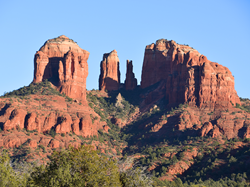 Two New Unique Biking and Multi-Sport Trips in Northern Arizona's Sedona and Prescott and Lowcountry's Savannah, GA to Charleston, SC.
BURLINTON, Vt. (PRWEB) December 13, 2017
Sojourn Bicycling & Active Vacations announces new active travel destinations in 2018, expanding offerings to include two unique biking and multi-sport trips in Northern Arizona's Sedona and Prescott and Lowcountry's Savannah, GA to Charleston, SC.
The Northern Arizona Multi-sport Tour in Sedona and Prescott is a natural extension of the company's widely acclaimed Southern Arizona tour. The new trip features outstanding biking, hiking, and kayaking along with a diverse selection of culinary and cultural experiences in an area of unparalleled beauty and natural wonders.
Guests will cycle on the winding roads of the famous Skull Valley loop in the Prescott National Forest, take a kayaking excursion on the rapids of the Verde River, and hike the famed Red Rock State Park of Sedona. The itinerary helps to experience Sedona over multiple days with a bike tour of the Red Rock Scenic Byway and a wine tasting followed by a hike into the valley to slow down and experience the rock formations up close.
"As one of Arizona's first premier active travel operators, the expectations from a new Arizona tour is undoubtedly high," explained Raja Mukherjee, President of Sojourn. "Northern Arizona's spectacular scenery was the inspiration for this trip. We are confident that this tour has all the right ingredients—great cycling, unlimited active sports options, unmatched natural beauty, delectable cuisines, unique cultural experiences—to be a worthy addition to the Sojourn line-up."
The South Carolina/Georgia Lowcountry is a 200 mile stretch of coastal charm and history that exudes an aristocratic allure, draped in southern hospitality, fascinating history, and charming Victorian and Antebellum architecture. Its delectable cuisine overlaid with a quintessential southern landscape defines the other new Sojourn trip from Savannah, Georgia to Charleston, South Carolina.
The Lowcountry tour affords guests with a rare chance to pedal through history. Highlights of this relatively easier bike tour include visits to the Wormsloe ruins, the Gullah Geechee community, a private Gullah Geechee dinner at a plantation, and exploring historic St. Helena Island, where Martin Luther King wrote his famous "I have a dream" speech. Traversing north from Savannah, GA to Charleston, SC, the tour hits a historical crescendo while exploring the Fort Sumter National Monument, the first battle site of the Civil War.
"Sojourn guests have frequently requested a tour in this region. I am thrilled that the Savannah, GA to Charleston, SC trip not only captures the essence of this distinct region but also speaks to what makes Sojourn unique," said Raja Mukherjee, President of Sojourn. "We are able to present a complete experience that encompasses a wonderful bike tour with a passionate mix of American history, Southern culture and a unique culinary experience allowing our guests to make a deep connection with the incredible people and the insights this place has to offer".
Guests can join Sojourn's Sedona and Prescott and Savannah, GA to Charleston, SC tours in the spring and fall of 2018 when the temperatures are perfect for discovering these fantastic locations.
For more information on these and all of Sojourn's trips visit http://www.gosojourn.com or call 800-730-4771.
About Sojourn Bicycling & Active Vacations
Founded in 2004, Sojourn Bicycling & Active Vacations is an award-winning company specializing in bicycling and multi-sport trips to almost two dozen unique destinations throughout the United States and Canada. Known for its unmatched attention to details, this Vermont-based company has garnered accolades from Conde' Nast Traveler, Forbes, Frommer's, Fodor's and Outside Magazine.