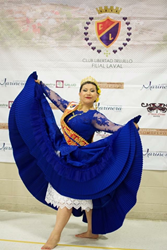 "We are very excited to welcome these dancers into our office this holiday season," said Dr. Barry Kaplan, founder and president of Queens Medical Associates. "We strive to makes the lives of our patients a bit brighter throughout the year, but especially during this wonderful time, Maria and these
FRESH MEADOWS, N.Y. (PRWEB) December 13, 2017
Queens Medical Associates, a preeminent cancer care facility and infusion center specializing in hematology and oncology, will be hosting a special performance for its patients this holiday season. Last year, Maria López, a medical assistant in the practice, performed the Marinera Nortena, a traditional type of Peruvian dance for patients during the holidays. This year, she will be bringing in three students from a local dance school where she practices, the Corazon Peruano NY, to perform.
"We are very excited to welcome these dancers into our office this holiday season," said Dr. Barry Kaplan, founder and president of Queens Medical Associates. "We strive to makes the lives of our patients a bit brighter throughout the year, but especially during this wonderful time, Maria and these young people will definitely put smiles on their faces."
Corazon Peruano NY was formed to promote the rich folkloric culture of Peru, via dance. The name of the school means "Peruvian Heart," and is open to anyone in the community who desires to learn dances, regardless of nationality. With over 500 hundred dances, the Peruvian repertoire includes Valicha, Huaylas Carnaval and Antiguo, Tondero, Vals, Marinera Limena, and the popular Marinera Nortena.
"I have danced Marinera for 22 years. When I dance and listen to the music, my heart is filled with love of my cultural roots and I am so happy to share this with the Queens Medical Associates patients," explains López. "It gives me joy during the holidays and I hope that this does the same for them."
Queens Medical Associates is located at 176-60 Union Turnpike, Suite 360, Fresh Meadows, NY. For more information, please call 718-460-2300 or visit http://www.queensmedical.com/.
ABOUT QUEENS MEDICAL ASSOCIATES
Queens Medical Associates (QMA) is a well-established physician practice and infusion center which provides hematology and medical oncology care for patients with cancer and blood disorders. Located in Fresh Meadows, New York, QMA's physicians and clinical staff bring decades of experience providing exceptional care and treatment. Approximately 300 patients are served daily translating into over 200 treatments. QMA's team members communicate in five official languages (English, Spanish, Chinese, Korean, and Russian). The practice also offers infusion therapy for many conditions including Crohn's disease, multiple sclerosis, rheumatoid arthritis, and organ transplants.