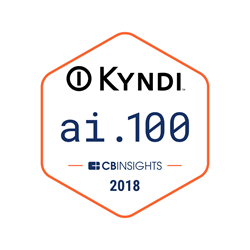 SAN FRANCISCO (PRWEB) December 13, 2017
CB Insights yesterday named Kyndi to the prestigious AI 100, a select group of promising private companies working on groundbreaking artificial intelligence technology. CB Insights CEO and co-founder Anand Sanwal revealed the full list of the second annual AI 100 companies at the A-ha! conference in San Francisco.
"Last year's AI 100 enjoyed amazing success in the year since earning this recognition. 55 of them went on to raise additional funding nearing $2B and 5 were acquired.
This year's list was culled from 1000+ applications and looks even more impressive. These are companies using artificial intelligence in industries from drug discovery and cybersecurity to robotics and legal tech. I'm happy that CB Insights is able to shine a light on the founders and companies that will revolutionize these industries and look forward to seeing what they do in 2018 and beyond," said CB Insights CEO Anand Sanwal.
"Being named to CB Insights' AI 100 is an incredible honor," said Ryan Welsh, Founder and CEO of Kyndi. "It is a major industry recognition, and I think it underscores the importance of moving past 'black box' machine learning towards Explainable AI products that have auditable reasoning capabilities. Explainability is especially crucial for critical organizations that are required to explain the reason for any decision."
The CB Insights research team selected the AI 100 companies based on criteria, examining company-submitted data and the company's Mosaic Score. The Mosaic Score, based on CB Insights' National Science Foundation-funded algorithm, measures the overall health and growth potential of private companies. Through this evidence-based, statistically-driven approach, the Mosaic Score can help predict a company's momentum, market health and financial viability.
Companies such as Zoox, Shield AI, Zest Finance, Dynamic Yield, Appier, and CognitiveScale joined Kyndi in being recognized for their innovative technology in front of an audience of 400 senior innovation executives from around the world and news outlets including The Financial Times, CNBC, Reuters, Bloomberg and the Washington Post.
Founded in 2015, Kyndi transforms business processes by offering auditable AI products. Its novel approach to AI, which unifies probabilistic and logical methods, enables organizations to analyze massive amounts of data to create actionable knowledge significantly faster and without having to sacrifice explainability. Kyndi's Explainable AI Platform supports the following solutions: Intelligence, Defense, Compliance (i.e., for financial services and healthcare), and Research.
Quick facts on the AI 100:

These 100 emerging private companies have raised $6.6B across 99 deals in 2017.
Applications of their technology include breakthroughs in fintech, digital health, auto tech, robotics, and more.
More than 1,000 companies were nominated or applied and only 9% were selected.
Eleven AI 100 companies have reached a valuation of $1B or more.
Thirty-three companies on the list were also on the list for 2017, with 67 new companies making it for 2018.
Nine countries are represented among the AI 100 companies.
The AI 100 Companies (in alphabetical order):
AEYE
Affirm
Afiniti
AiCure
Algolia
Amplero
Anki
Appier
Applitools
Appthority
Aquifi
Arterys
babylon
Benson Hill Biosystems
Brain Corporation
Bytedance
C3 IoT
Cambricon
Cape Analytics
Captricity
Casetext
Cerebras Systems
CloudMinds
CognitiveScale
CrowdFlower
CrowdStrike
Cybereason
Darktrace
DataRobot
Deep Sentinel
Descartes Labs
Drive.ai
Dynamic Yield
Element AI
Endgame
Face++
Flatiron Health
FLYR
Foghorn Systems
Freenome
Gong
Graphcore
InsideSales.com
Insight Engines
Insilico Medicine
Invoca
Kindred Systems
Kyndi
Liulishuo
MAANA
Merlon Intelligence
Mighty AI
Mobalytics
Mobvoi
MOOGsoft
Mya Systems
Mythic
Narrative Science
NAUTO
Neurala
Numerai
Obsidian Security
Onfido
Orbital Insight
OrCam Technologies
Osmo
PerimeterX
Petuum
Preferred Networks
Primer
Prospera
Recursion Pharmaceuticals
SenseTime
Shape Security
Sher.pa
Shield AI
Shift Technology
Socure
SoundHound
SparkCognition
Sportlogiq
Tamr
Tempus Labs
Text IQ
Textio
Tractable
Trifacta
Twiggle
UBTECH Robotics
Upstart
Versive
Vicarious Systems
Workey
WorkFusion
ZestFinance
Zoox
About CB Insights
Our team builds technology that helps corporations guess less and win more. We aggregate and analyze terabytes of data and use machine learning, algorithms and data visualization to help corporations replace the three Gs (Google searches, gut instinct and guys with MBAs*) so they can answer massive strategic questions using probability not punditry.
*We have MBAs.
Contact:
Farrah Kim, Senior Public Relations & Communications Manager
fkim(at)cbinsights.com
212-292-3148
To learn more about A-ha!, go here: http://events.cbinsights.com/aha
About Kyndi
Kyndi is an artificial intelligence company that's building the first Explainable AI platform for government, financial services, and healthcare. We transform business processes by offering auditable AI systems. Our product exists because critical organizations cannot use "black box" machine learning when they are required to explain the reason for any decision. Based in Silicon Valley, Kyndi is backed by leading venture investors. For more information, visit http://www.kyndi.com.
Contact:
Patrick Di Chiro
Patrick(at)thunderfactory.com
650-245-7310