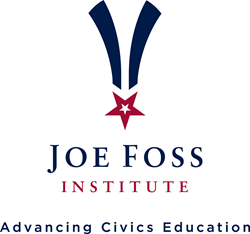 SCOTTSDALE, Ariz. (PRWEB) December 12, 2017
The Joe Foss Institute (JFI) today announced it has received a two-year, $1 million grant from the Daniels Fund to support its civics education efforts.
The Joe Foss Institute, founded by Medal of Honor recipient, Joe Foss, in 2001, offers civics education resources to teachers and students nationwide.
The grant from the Daniels Fund will enable JFI to build new civics curriculum and lesson plans for teachers and students in preparation for meeting new civics requirements in schools across the country.
Dr. Lucian Spataro, JFI Chief Academic Officer, points out, "We'd like to thank the Daniels Fund for this significant grant. Their support allows us to realize the full potential of the vital work we are doing to address the lack of knowledge of basic American civics, the framework on which the country was founded."
"Our founder, Bill Daniels, believed we all have a responsibility as Americans to be informed and participate in our democracy," said Daniels Fund President & CEO, Linda Childears. "This grant will provide teachers the materials they need to help students learn civics and become active, engaged citizens."
Karrin Taylor Robson, JFI Board Chairman, emphasizes, "This is further recognition of the significant and positive impact we are now having on millions of students each year as we work to advance the study of civics across America."
In 2014, JFI launched the Civics Education Initiative (CEI) in response to the nation's civics education crisis. Simple in concept, CEI requires students to pass the U.S. Citizenship Test, the same test immigrants seeking citizenship must take, as a condition of high school graduation. Governor Ducey became the first governor to sign the legislation, making Arizona the first state in the country to enact the legislation. Currently, 23 states have enacted this same or similar civics legislation and 12 other states are now considering the legislation for passage in 2018.
"There is nothing more important than understanding basic American Civics. It is the first bill I signed into law as a new Governor, and I believe it will have a far reaching and favorable impact," said Arizona Governor Doug Ducey.
The Daniels Fund, established by cable television pioneer Bill Daniels, is a private charitable foundation dedicated to making life better, one individual at a time, through its grants program, scholarship program, and ethics initiative. Visit DanielsFund.org to learn more.
For more information on the Joe Foss Institute or the Civics Education Initiative, visit JoeFossInstitute.org.