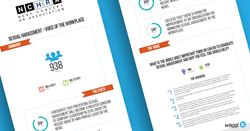 "Sexual harassment is an unseen risk at many organizations, and it's been festering for quite some time," said Greg Morton, CEO, NCHRA. "There needs to be a seismic shift in the way that this type of behavior is dealt with going forward."
SAN FRANCISCO and SAUSALITO, Calif. (PRWEB) December 14, 2017
Next Concept Human Resource Association (NCHRA), and Waggl, the most human way for organizations to crowdsource feedback and align on action, today released new data from their joint "Voice of the Workplace" pulse on the subject of sexual harassment in the workplace.
The "Voice the Workplace" pulse was sent to thousands of people from organizations of all sizes, using Waggl's crowdsourced listening platform from December 5-12, 2017. Of the nearly one thousand people who participated, 89% agreed with the following statement: "I anticipate that preventing sexual harassment will become a greater concern of company leadership in 2018, given the recent wave of high-profile cases in the news." The responses were aligned across various demographics including age, gender, and job function. For respondents 61+ years of age and for people from large for-profit corporations with 20,000 employees or more, a full 94% agreed that sexual harassment will become a greater priority in the coming year.
As a follow-up question, participants were asked whether they agreed with this statement: "I believe that there is room for improvement at my organization for minimizing sexual harassment in the workplace." In aggregate, 58% of participants agreed, but within these responses, there were some interesting demographic splits. For example, only 53% of men felt there was room for improvement, in comparison with 60% of women. Among respondents 51-60 years of age only 51% agreed, in comparison with 64% of respondents 31-40 years of age.
"Judging by the tremendous response we had on this pulse, sexual harassment in the workplace is an issue of keen importance, not only for HR but for people of all job functions," said Greg Morton, CEO, NCHRA. "Responses point to the need for leaders to own this issue and be held accountable, or as recent events indicate, suffer damage to their brand and bottom line. It's clear that the high-profile cases we've seen in the news recently are just the tip of the iceberg -- sexual harassment is an unseen risk at many organizations, and it's been festering for quite some time. There needs to be a seismic shift in the way that this type of behavior is dealt with going forward."
NCHRA and Waggl also posed the open-ended question, "What is the single most important thing HR can do to eradicate sexual harassment, and why do you feel this would help?" Crowdsourced responses were distilled into a ranked list. The top 5 answers, as prioritized by the participants, were:

"In any work environment, taking claims of sexual harassment seriously and educating employees on what is inappropriate behavior and why it is inappropriate. Creating a work environment where employees feel supported and mutual respect is not only expected, but rewarded."
"Hold leaders accountable to the policies, standards and laws no matter the level of the perpetrator."
"Gain top level support for this initiative. It needs to be the CEO and management team of the company who really owns this issue, lives up to it, and demands that the organization meet standards that are set. In other words, it's got to be a lot more than lip service or a program that HR rolls out. It has to be bona fide and from the top."
"Getting CEO and leadership committed to zero tolerance to sexual harassment. Unless the company's culture changes from the top, we won't be able to wipe out sexual harassment at work."
"Sexual harassment is not an issue for HR to solve on its own, it's a problem that must be acknowledged and addressed by the entire organization. In order to really eliminate sexual harassment, everyone needs to take accountability for speaking up and addressing problems at the moment they occur, before it turns into a bigger problem."
"From these responses, it's clear that sexual harassment is an important topic that elicits strongly-held beliefs from everyone in the workforce," said Michael Papay, Co-founder and CEO, Waggl. "In order to address topics of core importance like this one, organizations need to create a forum for authentic communication. Providing people with a safe, open network in which to share their opinions anonymously is a great way to open up a 2-way dialogue and create a foundation of mutual respect and trust."
Waggl is designed to help organizations to crowdsource feedback and quickly align on action. The company's real-time listening platform creates a transparent, 2-way dialogue that can be used to surface ideas, collect authentic feedback, and build consensus. Unlike traditional survey and polling platforms, Waggl engages participants by asking open-ended questions where favorite responses can be "voted up." The platform enables fast, frequent, focused conversation on virtually any topic.
For additional information, please visit Waggl and NCHRA. Be sure to register for HR West 2018, in the San Francisco Bay Area.
About NCHRA
Next Concept Human Resources Association, formerly known as the Northern California Human Resources Association, is one of the nation's largest HR associations and has been advancing organizations through human resources since 1960. Delivering nearly 200 programs annually, the association is dedicated to connecting human resources professionals with practice resources, leading California-specific training, legal and legislative developments, quality service providers, and each other—forming career-long networks and partnerships.
About Waggl
Waggl is the most human way for organizations to crowdsource feedback. Named after the dance that bees do in a hive to transmit important information very quickly, Waggl lives at the intersection of two organizational realities: Companies want an engaged workforce and employees want to know that their opinions count. Waggl goes beyond the traditional survey by offering an extremely easy way to listen to many voices at once within an organization for the purpose of making it better. Waggl's real-time listening platform creates a transparent, authentic two-way dialogue that gives people a voice, distills insights, and unites organizations through purpose. With a highly seasoned management team and a Board including esteemed executives from Glassdoor, SuccessFactors, and Coupa, Waggl is an innovative industry leader helping companies of all sizes to succeed by building a listening culture. For more information, please visit: http://www.waggl.com/.