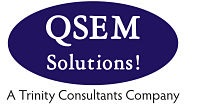 "Trinity is very pleased to be joining forces with QSEM. They are a veteran group with a unique mix of process knowledge combined with emission control and environmental compliance expertise. We look forward to combining our skill sets and services to broaden offerings to our clients."
DALLAS (PRWEB) December 14, 2017
Trinity Consultants, Inc.® (Trinity), an international environmental, health, and safety (EHS) consulting firm that specializes in industrial air quality issues, announces that it has acquired QSEM Solutions (QSEM). QSEM is an environmental consulting firm focused on air quality compliance, permitting, and controls that serves industrial clients in the Midwest, Mid-Atlantic, and Southeast regions of the U.S. With staff in Cincinnati, Pittsburgh, Raleigh, and Roanoke, QSEM brings additional resources to existing Trinity offices in those locations.
Mike Remsberg, Trinity's Eastern Region Managing Director, commented on the transaction, "Trinity is very pleased to be joining forces with QSEM. They are a veteran group with a unique mix of process knowledge combined with emission control and environmental compliance expertise. We look forward to combining our skill sets and services to broaden offerings to our clients."
According to QSEM co-founder Bob McCullough, "The QSEM team is excited to become part of Trinity Consultants. Trinity is very well regarded for its technical expertise and culture, and there's a nice match between the two companies' skills and client sectors. We feel like it will be a great combination of two complementary teams."
Background on Trinity Consultants
Founded in 1974 in Dallas, Texas, Trinity operates in locations across the U.S. and in Canada, the U.K., China, and the Middle East. Trinity assists industrial facilities with regulatory permitting and compliance management, specializing in industrial air quality issues. In addition to EHS consulting, Trinity's has divisions that specialize in environmental modeling software (BREEZE®), technology solutions for EHS information management (T3®), engineering and EHS staffing (Trispyrian Resources), and professional EHS training. SafeBridge Consultants®, a Trinity Consultants company, assists life sciences companies with industrial hygiene and toxicology.
Background on QSEM Solutions
QSEM Solutions serves clients in the steel, cement, lime, gypsum, consumer products, utilities (electric generation, steam generation), energy, chemical, pharmaceutical, gas transmission, O&G E&P, and general manufacturing industries. QSEM staff have extensive experience in air quality related services such as permitting, reporting, and modeling, as well as air pollution control assessments, water quality management, waste management, process/system evaluations, and environmental site assessments.