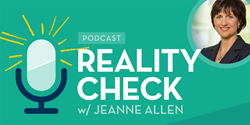 WASHINGTON (PRWEB) December 13, 2017
CER Launches Podcast Reality Check with Jeanne Allen
Series delves into anything and everything having to do with education.
The Center for Education Reform (CER) is pleased to announce its inaugural podcast series available beginning December 12, 2017. Reality Check is hosted by CER Founder & CEO Jeanne Allen. In keeping with the Center's 24-year mission of pursuing laws that demand flexibility, innovation and opportunity for every American student, this series aims to be the center of thoughtful dialogue and challenging debate on the state of education today, the real and compelling reasons that launched the education reform movement and the new ideas and innovation that lay ahead as we strive to prepare students to meet the challenges of a globally competitive future.
Guests will include pioneers of the reform movement such as Marquette University Prof. Howard Fuller and Joe Nathan, Director of the Center for School Change as well as parent activists, educators, scholars, authors, education technology leaders, legislators and policy experts.
Reality Check with Jeanne Allen is a production of National Review. "I'm grateful to Charlie Cook and everyone at National Review Online for making this podcast available," said Allen. "In order to know what's really going on in our elementary and secondary schools or in higher education, everyone needs a Reality Check."
In addition to National Review Online, the series is available via subscription at ITunes, Google Play, Stitcher and TuneIn.
CONTACT: Christina Mazzanti, CER Director, Communications christina(at)cer(dot)com (202) 750.0016
####