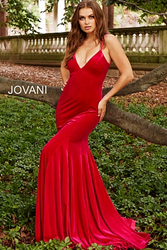 The photo shoot is just a part of [Jovani's] ongoing effort to make the site not only more beautiful, but also more user-friendly.
NEW YORK (PRWEB) December 18, 2017
Jovani Fashion, a New York-based manufacturer and designer of fashions for young woman, is making its latest photography shoot public this week and adding new pictures celebrating prom dresses to its web site. The manufacturer notes that its home page is now graced by a stunning photo of a beautiful young woman in a stunning red slit dress, positioned near a pillar and an ivy-covered wall. Jovani adds that visitors might well feel like they are seeing double as the photograph includes the same model in two different poses, apparently existing side by side. Jovani Fashion also notes that visitors can also see a great many more enchanting new outdoor images on pages highlighting its 2018 prom dresses.
The fashion company adds that the photo shoot is just a part of its ongoing effort to make the site more user-friendly. Jovani.com is continuing its efforts to offer women an enormous palette of colors and styles in an engaging format, but steps are being taken to make the site more useful as well. Specifically, it has beefed up its ability to easily direct customers to the nearest store featuring Jovani dresses. Site visitors are also able to access information regarding which dresses may be available at the company's warehouse. Jovani Fashion also notes that its web site offers a helpful size chart for its dresses. Once visitors have taken the time they need to decide which dresses they would most like to purchase, they can then take a moment to check out the site's fashion blog. The blog offers insights on the worlds of fashion, fitness, beauty, and more, says the fashion firm.
Jovani Fashion notes that, whether visitors are looking for, that ideal 2018 prom dress or a dazzling new evening dress for a formal affair, or cocktail dresses for a night out on the town, its online team works extra hard to make Jovani.com as useful as possible. It's all a part of the firm's commitment to making it easy for young women from all walks of life to find dresses that will make them look and feel their most beautiful.
Consumers and retailers who would like to learn more about the designer offerings available are cordially invited to visit the Jovani Fashion web site.