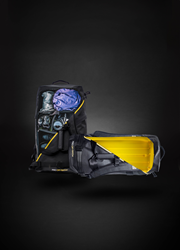 check out the mind blowing teaser when our team riders attempts to cross lake Balkhash in Kazakhstan 600km/370mi with nothing but their kites, water strapped to their boards and their gear packed in our SUBTECH bag
(PRWEB) December 14, 2017
Making headway on the international platform, the PRO DRYBAG has been introduced to some of the world's biggest names and partners among extreme sports and expeditions and we are now proud to call many of them TEAM SUBTECH members. Their expertise and the way they use our gear is ramping up our knowledge base to a level few other brands can match.
"As an example of when our team riders put our gear to extreme real life tests you can check out this mind blowing (1min) video teaser when two Brazilian adventurers attempts to cross lake Balkhash in Kazakhstan 600km/370mi/300NM with nothing but their kites, water strapped to their boards and their gear packed in our SUBTECH PRO DRYBAG," said Founder Erik Lyth.
After 2 years R&D the SUBTECH team cannot wait to exceed everyone's high expectations by bringing the PRO DRYBAG 2.0 Series to market in 2018 after got fully funded on Kickstarter in less than 12 hours!
PRO DRYBAG 2.0 Series consists of:
>PRO DRYBAG 45L- A 45 Liter fully waterproof duffel bag with a Shockproof Inflatable System.
>PRO DRYBAG 100L- A 100 Liter fully waterproof duffel bag with an Internal Pack System.
>DRY TOTE BAG 95L- A rugged 95Liter light-weight tote bag with welded waterproof seams.
Features include:
>WATERPROOF: Waterproof down to 50m/164ft (Highest waterproof classification IP68)
>FLOATING: Floats fully packed with an adult on top
>AIR/WATER/CONDENSATION TIGHT ZIPPER: Protect electronic equipment from water and condensation. Pressure tested to 500mbar/7psi
>RIP PROOF MATERIAL: Made in extra durable TPU 620D with welded seams to last a lifetime in combination with low-weight carrying.
>DETACHABLE STRAPS: Aircraft graded 7075 Aluminum alloy hooks to easily remove the straps.
-MAGNETIC HANDLE: Sewable magnetics in the handles for quick and easy access in the bag and with optimal comfort when carrying the duffel bag.
>ERGONOMIC BACKPACK: The airtight zipper creates an airbag that allow a perfect fit along back and spine no matter what size or body shape.
>HEAVY LOAD: Detachable 7075 Aluminum alloy waist belt and sternum strap allows perfect support for heavy lifting.
>REFLECTIVE: Reflective logo material allows perfect visibility at night.
>SLEEK DESIGN: The PRO DRYBAG 45L/100L is designed for the most extreme environments but also with a minimalistic design in mind to work just as well in urban environments.
Kickstarter campaign (Ends 31st of Jan, 2018): AWARD-WINNING PRO DRYBAG 2.0
For more information on all SUBTECH SPORTS products, visit subtechsports.com.
About SUBTECH SPORTS
SUBTECH SPORTS is a young fast emerging brand that was founded by Erik Lyth in Sydney, Australia in 2011 and has in later years also expanded to Stockholm, Sweden.
Since the success with the first generation PRO DRYBAG 45L in 2015, SUBTECH SPORTS has already been recognized for their work by receiving the international prestigious ISPO Brand New Award - Awarded as Top 50 new upcoming sports brands in the world 2016/17.
Today SUBTECH SPORTS award-winning products are used by a global network by some of the world top athletes within the sports of kitesurfing, surfing, freeskiing, stand-up paddling, wingsuit base jumping, kayaking, sailing, rowing, triathlon, parkour, motocross, sports car racing in something we call TEAM SUBTECH. They all use our gear on a daily basis, constantly pushing our gear to the limits, allowing us to take it to the next level. For more information, visit subtechsports.com.