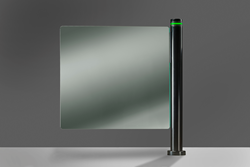 Lillington, NC (PRWEB) December 13, 2017
Boon Edam Inc., a global leader in security entrances and architectural revolving doors, today announced the inclusion of the Winglock Swing pedestrian access gate in retrofit magazine's Top 50 Products special. The fifth-annual Top 50 Products, which will appear in retrofit's January-February 2018 issue, celebrates the products that received the most reader inquiries from the magazine's September-October 2016 through July-August 2017 issues.
"We consider retrofit a source book for our readers to find innovative solutions and products for their own retrofit projects," says Publisher John Riester. "The Top 50 Products special in our January-February issue is a great resource to our readers about the products their peers thought were most interesting within the pages of retrofit."
Boon Edam's Winglock Swing is a sleek and intuitive glass pedestrian access gate designed for ease of use by people entering into secure buildings, usually in a supervised lobby location. The gate integrates with most access control systems; when a user is authorized an indicator light on the gate's pedestal changes from red to green to signal the authorization was accepted. The single swinging panel of the gate opens wide enough to allow for access by wheelchairs and delivery carts. The Winglock Swing can be installed as a standalone unit, or alongside Boon Edam's Speedlane Lifeline optical turnstile series.
"We continue to experience strong demand for our Lifeline optical turnstiles, due to their slim and refined look," says Boon Edam's Senior Vice President of Sales, Greg Schreiber. "The Winglock Swing is a great option with a similar appearance we can offer customers that want a wide lane to accommodate the disabled, visitors with children or large deliveries on dollies into a secure environment. It's been a great success and we're honored to be included in retrofit's Top 50 Products."
To learn more about retrofit and subscribe, visit http://www.retrofitmagazine.com.