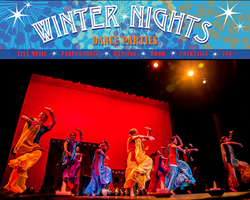 A colorful feast for the eyes as well as the ears, people were laughing, clapping and stirring up the dust with unbridled enthusiasm.
San Rafael, CA (PRWEB) December 30, 2017
The Kanbar Center at the Osher Marin JCC brings the multicultural flavors, movement, live music and fun of Summer Nights festivals to the indoor Hoytt Theater & Plaza J. Dholrhythms Dance Company returns for "The Colors of India."
Come visit India through beauty, colors, rhythms, sounds, and flavors of the country featuring Dholrhythms Dance Company. An upbeat and joyful dance production tells the story of women in the villages of Punjab, India through beautiful dance choreography weaved in with music, visuals, props, narration, live drumming, and song.
The dance performance will lead into dance instruction from the troupe itself, followed by a great dance party on the floor with Dholrhythms Dance Co. and music by DJ Jimmy Love (Non-Stop Bhangra) accompanied by live dhol drummers.
Free bindis at the door, opportunities for Henna painting, cocktails and dinners will be available from Tandoori Nites' own on-site pop-up restaurant. Journey to India without leaving Marin!
Come shake off those winter blues with a joyful night of performance, dance and fun!
Watch, Learn, Participate, and Enjoy!
WHAT: Winter Nights Punjab Dance Performance & Bollywood Dance Party with Dholrhythms Dance Company
SEATING: General admission & Reserved Table Seating Options
TICKETS: $22 – $35 / Student discount for ages 17 & under
WHEN: Sat. Feb. 3 @ 8:00pm | 7:00pm: Doors, Cocktails, Concessions, Pop-up Restaurant | 8-8:45pm: Dance Performance | 9pm: Dance Lesson followed by Dance Party!
WHERE: The Osher Marin JCC, 200 North San Pedro Road, San Rafael.
PARKING: Ample FREE parking. Accessing the Osher Marin JCC from Highway 101 is effortless, 1/2 mile E off 101.
TICKETS: Available at marinjcc.org/arts
ABOUT DHOLRHYTHMS DANCE COMPANY
Based in San Francisco Bay Area, Dholrhythms Dance Company is an organization dedicated to promoting the artistic and cultural heritage of India through the beautiful Bhangra and Giddha folk dances of Punjab, India. Dholrhythms hosts classes, workshops, performances and events that celebrate and share the beauty of these dance forms. Dholrhythms also hosts the award winning monthly event, Non Stop Bhangra, voted as the one of "Best Dance Parties" in San Francisco now in its 14th year of production.
Co-founders Vicki Virk and Suman Raj envisioned Dholrhythms as a way to share their love of community, culture, and dance while inviting diversity and unity. Since its inception in 2003, Dholrhythms has been featured on landmark stages in the Bay Area and beyond and grown into a boundless and unique platform for people from all walks of life to come together, and enjoy dance in a non-competitive and positive environment.
The eclectic and passionate group of women who dance with Dholrhythms Dance Company have become one of the most talked about groups in SF Bay Area creating a demand for this dance. Led by vicki virk's punjabi heritage, Dholrhythms highlights the ancestral and ethnic roots of the Punjabi dance form while pushing boundaries with contemporary influences. The result is a fresh and exciting dance full of joy, energy, and passion.