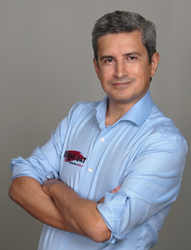 I want every one of my clients to have a delightful experience with me and my team, from the first phone call to the final walk through. We are focused on providing a professional service at a fair price without frustration. - Silvestre Melo
BOCA RATON, Fla. (PRWEB) December 13, 2017
When Silvestre Melo was 13, his mom woke him in the middle of the night and told him they had to get out of the house. As they stood outside in the middle of the storm, she told him she was worried their roof was going to collapse. Although the roof held that night, that memory stuck with Melo and he promised himself two things – (1) he would buy his mother a house with a sturdy roof and (2) he would find a way to help other people love their homes. Now Melo is pleased to announce the launch of his new painting business, Fresh Coat Painters of Boca Raton.
"After that night, I truly understood the importance of the place you call home. Everyone should have a place where they feel safe – emotionally and physically. I did feel safe in my house growing up, but I know my mom worried. I am hoping, through Fresh Coat, I can rejuvenate homes and give people a place they want to come home to after a long day at work. I want to help people love their homes again, which can start with a fresh coat of paint," Melo said.
Fresh Coat offers residential and commercial painting services including interior and exterior painting, wood staining and finishing, and other services for nearly every protective coating application. Their professional painters are background checked and insured and Fresh Coat only uses high-quality materials. Fresh Coat of Boca Raton serves Boca Raton, Highland Beach, Sandalfoot Cove, Boca Del Mar, Boca Pointe and the surrounding areas.
Melo has been working for large companies for the last 25 years, including PepsiCo, Nortel Networks and PricewaterhouseCoopers. He has an MBA from Duke University and is a Fuqua alumnus. That corporate background enabled him to buy that house for his mom and fueled his passion for business.
"I've always worked for big businesses and I was doing a lot of traveling. I was successful, but I didn't have the flexibility, freedom or ability to help people that I really wanted in my career. I have a lot of business experience and a passion for homes, so Fresh Coat is a great fit for me," Melo said.
"The painting industry doesn't always have the best reputation and I'm looking forward to changing that. I want every one of my clients to have a delightful experience with me and my team, from the first phone call to the final walk through. We are focused on providing a professional service at a fair price without frustration," Melo said.
As part of their commitment to customer service, Fresh Coat offers a 24/7 receptionist, online scheduling and detailed quotes. Fresh Coat also has a 3-3-3 customer service pledge, so calls will be answered by a live person within three rings, a quote will be delivered within three days (customer schedule permitting) and the job will be started within three weeks.
Fresh Coat was founded in 2004 as part of Strategic Franchising Systems. Since 2015, Fresh Coat has been included in the Bond's Top 100 and named to Entrepreneur Magazine's Franchise 500 list. Fresh Coat is also part of the International Franchise Association, the Small Business Association's Franchise Registry, VetFran and Minority Fran. All Fresh Coat employees are trained, dependable, fully insured and background-checked and Fresh Coat Franklin is bonded and insured.
For more information about Fresh Coat of Boca Raton, call (561)666-6687, email SMelo(at)FreshCoatPainters(dot)com or visit http://www.FreshCoatBocaRaton.com.