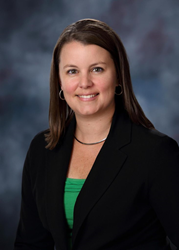 "We're thankful to have Katie join us at NEIRG as our company continues to expand." - Nick Giacoumakis, President and founder of New England Investment & Retirement Group
NORTH ANDOVER, Mass. (PRWEB) December 14, 2017
New England Investment & Retirement Group, Inc. welcomes Katie Frechette to their company team. Katie joins NEIRG as a Client Service Representative and has been working with the company's client service team since June 2017.
As a Client Service Representative, Katie possesses the expertise that is crucial to achieve an exceptional level of care for new and established clients. She provides seamless transition for NEIRG's new clients, and she also works with existing clients handling account service requests including deposits and withdrawals, account inquiries, and tax reporting. She is a vital partner working alongside NEIRG's advisory team with client meeting preparation and follow-up.
Before she joined NEIRG, Katie worked as a Client Relationship Manager for a private wealth management firm in New Hampshire and as a licensed banker at Citizen's Bank. "I am honored to be a part of the New England Investment and Retirement team and am looking forward to the continued growth of both the company and team," said Katie.
"We're thankful to have Katie join us at NEIRG as our company continues to expand," said Nick Giacoumakis, president and founder of New England Investment & Retirement Group. "We're impressed by her ambitious commitment to our clients, and she is a fantastic fit with our whole team."
NEIRG is grateful that Katie has joined the company as it grows while continuing its mission to help clients pursue financial independence by providing unbiased objective guidance. NEIRG is proud to bring value through communication, education and exceptional service.
About NEIRG
Established in 1995 by Nick Giacoumakis, New England Investment and Retirement Group, Inc. is a flourishing 14-member firm that offers investment management and financial planning services for individuals and families. Now in its 22nd year of service, the NEIRG team takes pride in providing unmatched, personalized service to its clients and has utilized its collective expertise to effectively guide clients in achieving and preserving financial independence. Based in North Andover, Massachusetts, NEIRG manages approximately $500 million in assets.