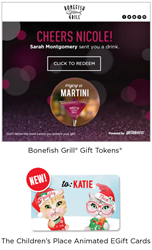 KANSAS CITY, Mo. (PRWEB) December 14, 2017
One thing is for sure, Gift Cards are basically a piece of plastic, often given at the last minute. While certainly the most requested gift item on holiday lists, it is also the most impersonal gift, according to research conducted by Gift Card Impressions™, a leading researcher in the large, $150B Gift Card Industry. However, with all of the new mobile technologies, comes new fun and interactive Gift Cards that look very different from that piece of plastic lost somewhere in a kitchen drawer.
New for Holiday 2017 are creative ways to send drinks, appetizers or favorite gift items using a new technology called Gift Tokens®. Gift Tokens® offers more than 150 gift items including shopping at Amazon, a burrito from Chipotle, movie tickets from AMC Theatres or Regal Cinemas, a book from Barnes and Noble, pizza from Dominos, a beer or cocktail from several popular restaurants and much more. This patented new technology can be sent via text or email and is redeemed just like a digital gift card. According to Brett Glass, CEO of Gift Card Impressions, "Making the Gift Card more fun using multi-media experiences triples the emotional connectivity of the gift. 26% of all gifts are under $20 and this new technology will create significant growth within the gift card industry in this underdeveloped segment"." To see the fun ways to deliver a Gift Token® download the app here Gift-Tokens.com
There are a lot of exciting ways to make the experience personal or interactive. Send someone a patented interactive experience where they shake a virtual snow globe on their device to receive their Gift Token® or receive a real beer by tilting a virtual beer on their phone. Bonefish Grill, a leading national seafood restaurant, offers Gift Tokens® for signature items like a Winter White Cosmo, or their top-selling Bang Bang Shrimp appetizer https://www.bonefishgrill.com/gift-cards/send-a-friend-a-cocktail
The Children's Place offers a new type of E-Gift Card with a personalized animation where the name of the recipient and the personalized message is part of the fun story. There are several animation options to choose from. https://tcp.thegiftcardshop.com/personalizations/animation/design/
So, this holiday season, it may be time to ditch the plastic and try one of these fun new ways to send a Gift Card.
About GCI
GCI, is a gift card industry leader providing engagement and gifting solutions to leading retailers, Gift Card brands and leading corporations. The company has received 29 industry awards for innovation in the last 5 years and has more than 98 patents issued with another 30+ patents pending in the US and worldwide. For patent information, see gcipatents.com. The company's leading-edge research allows the company to understand how to provide revolutionary communication and gifting solutions that enhance engagement and create more meaningful and shareable experiences for consumers and businesses.