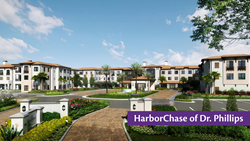 VERO BEACH, Fla. (PRWEB) December 19, 2017
Harbor Retirement Associates (HRA) to Add 10 New Communities New Communities Will Further Enhance HRA's Diverse Portfolio
Harbor Retirement Associates (HRA), a regional senior living development and management company based in Vero Beach, Fla., continues to expand its geographic footprint with two communities opening in early 2018, and eight more scheduled to open later on in the year. HarborChase of Mandarin in Jacksonville and HarborChase of Long Grove outside of Chicago are both scheduled to open in January. New planned communities in Texas, Delaware, Ohio, South Carolina, Florida and Virginia will add to HRA's increasingly diverse portfolio of senior living communities. All the new construction and community openings represent a continued focus on community expansion for HRA.
"This latest expansion demonstrates our sincere commitment to offering the very best in senior living to families across the country," said Tim Smick, CEO of Harbor Retirement Associates. "As the cornerstones of our organization, our core values of respect, attentiveness, integrity, stewardship and excellence will continue to guide our company as we move toward the future. We are all excited to add more residents and associates to the HRA family."
Recent communities opened by HRA include HarborChase of McKinney in McKinney, Texas, HarborChase of Southlake in Southlake Texas, and HarborChase of Palm Beach Gardens in Palm Beach Gardens, Florida. In addition to HarborChase of Mandarin and HarborChase of Long Grove, eight additional HRA communities are currently under construction, including: HarborChase of Park Cities in Dallas, Texas, HarborChase of Wildwood in Wildwood, Florida, HarborChase of Wilmington in Wilmington, Delaware, HarborChase of Riverwalk in Rock Hill, South Carolina, HarborChase of Wellington Crossing in West Palm Beach, Florida, HarborChase of Dr. Phillips in Orlando, Florida, HarborChase of Prince William Commons in Woodbridge, VA, and HarborChase of Beavercreek in Beavercreek, Ohio.
"We look forward to bringing our own distinctive brand of exceptional senior living to these new communities," said Sarabeth Hanson, Chief Operating Officer of HRA. "Our ever-growing roster of retirement communities will provide meaningful jobs for many local residents in these areas. Together, our first priority will be to make life engaging, enjoyable and active for all of our residents and family members for decades to come."
Additional communities are also in the works to add additional geographic areas to HRA's regional footprint. This additional expansion will include HarborChase of South Brunswick in South Brunswick, New Jersey.
"Over the past few years, we have learned that families nationwide are looking for a modern and innovative interpretation of assisted living and memory care," said Charlie Jennings, Chief Development Officer of Harbor Retirement Associates. "We are proud to offer an exceptional senior living lifestyle with innovative services, engaging activities, luxurious amenities and award-winning cuisine. Our new residents are going to joyfully discover new homes where they truly want to live, rather than just somewhere they have to go." 
All ten of the communities under construction will feature both assisted living and memory care services, with HarborChase of Mandarin and HarborChase of Dr. Phillips also offering independent living. HRA community features include full-service dining, housekeeping and laundry services, a dedicated staff of nurses available 24 hours a day, and HRA's signature Life Enrichment Program, designed to provide social, devotional, fitness and recreational opportunities that have a positive impact on residents. All communities also feature the exclusive Chef's Fare Dining Program with customized dining experiences in multiple venues. For more information on Harbor Retirement Associates, visit http://www.hraseniorliving.com
About Harbor Retirement Associates
Harbor Retirement Associates ("HRA") is a regional senior living development and management company, focused primarily on Assisted Living and Memory Care communities, but also engaged in the development and operations of Independent Living and Skilled Nursing communities. HRA operates 27 communities and is partnering on the construction of 10 more communities in 7 states. HRA manages over $130 million in revenue and approximately $500 million in assets while employing 2,000 associates. For more information, visit http://www.HRAseniorliving.com.