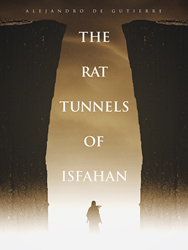 LOS ANGELES (PRWEB) December 13, 2017
Alejandro de Gutierre decided to become a writer in July of 2014. He awoke one day that month, and realized that he LOVED music, but didn't love MAKING music, something he had been trying to do off and on for twenty + years. He jumped into his car and drove to the deserts of New Mexico and Arizona alone, and after an excruciating hike into the Grand Canyon, he bathed in the waters of a Colorado River tributary, and realized that what he really wanted to do was to tell stories. He has been diligently writing and learning about the craft of writing ever since.
His first book, THE RAT TUNNELS OF ISFAHAN, was published in Sept. 1, 2017, and opened to rave reviews. Book One of a trilogy, RAT TUNNELS has been described by some of its early readers as "emotionally engaging," and full of "great detail; Super nail-biting."
"The Rat Tunnels of Isfahan beautifully portrays the human struggle to survive in the direst situations. When all that you love has been stripped away, is freedom a dream or is it all you have left to cling to? The author's unambiguous narration draws the reader in and I loved it." N. N. Light - Los Angeles, CA
"This book was a great start to a 3 part series. The writing is really descriptive and the author doesn't use the same word twice. You feel as though you are right there in the action. The story carries out well through its moments of calm followed by intense movement." Mark Reynolds - Westfield, MA
"A deep read! Such a feat for any writer to develop a complex character that the reader becomes invested in during such a short story, and Alejandro has succeeded in doing this. His robust research into Ancient Persia shows as he illustrates a realistic and visceral picture in the reader's head as the main character battles for his sanity and life." Baelaya G. - Salem, MA
The "Best of Los Angeles Award" community was formed three years ago and consists of over 3,700 professional members living and working in Southern California. It celebrates the best people, places and things in Los Angeles with a slogan "No Ads. No B.S. Only the Best."
"The mission of the community is to celebrate the best of Los Angeles, and allow its community members to connect with other members who share the highest standards of quality and integrity," said DeRose.
"I am honored to receive this award from the Best of Los Angeles," says Alejandro. "I worked hard to craft a gripping story about survival, and I can't wait to unveil the next two books in this series."
Book Two of this trilogy, named the "Scorpions and Silk" trilogy, will be published later in 2017, and Book Three in Spring of 2018. To learn more about Alejandro, visit http://www.degutierre.com/