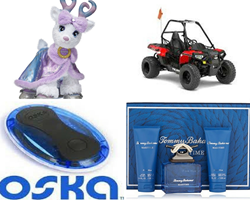 Holiday shopping for your family can be quite the challenge.
NEW YORK (PRWEB) December 15, 2017
Holiday shopping for your family can be quite the challenge.
That's why lifestyle expert Jeni Bond, from FunTrendsUSA.com, has compiled the following list of some of her favorite gift options.
According to Jeni:

"Build-A-Bear Workshop is the ultimate holiday destination to create and personalize your own furry friends. When you visit their locations or buildabear.com, you'll meet "Color Glow Glisten" – the newest member of the Merry Mission collection. You can even record a personalized message, both in-store and online, to place inside your present."
"The Polaris ACE 150 EFI is the first single-seat youth off-road vehicle designed to give kids 10 years and older the joy of driving, with adult supervision, while providing safety features parents will love. It comes with a protective cage, LED daytime running lights, seat belt, safety nets, safety whip flag and four-speed limit modes, plus a helmet and adjustable seat for growing kids. Visit Polaris.com for your nearest dealer."
"Oska Pulse is a great gift of health. It's a new, wearable pain relief health-tech devise, great for men and women of all ages who suffer from minor aches to chronic pain. The Pulse fits on your knee, back and anywhere on your body that's most susceptible to injury or degeneration. Best of all, it works without drugs and has no side effects. Visit oskawellness.com or Amazon to order."
"Tommy Bahama Maritime Men's Fragrance is an invigorating, new cologne that blends aromatic botanicals with intriguing complexity, for a scent that evokes warm trade winds over crystal clear waters. Surprise the adventurer in your life with their three piece Maritime Gift Set. It includes the full size Cologne plus an After Shave Balm and Hair & Body Wash. Buy it now at Belk, Dillard's and other fine retailers."
For more information, contact: Jeni Bond on Twitter @JeniBondSays or Barry D. Miller, Miller/Weiner Communications at 551-697-3007 or barry(at)miller-weiner(dot)com.