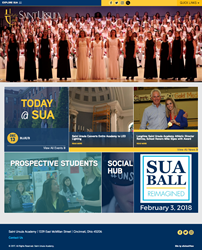 Identifying new ways to meet the needs of our clients is one of the reasons we have a retention rate that surpasses 97 percent.
CINCINNATI (PRWEB) December 15, 2017
With more than 1,500 submissions from 32 countries throughout the world, Saint Ursula Academy has won an Arcturus recognition in the 2017 Vega Digital Awards competition and excelled in its category, showing extraordinary prowess in digital creativity. The winning work was created by eSchoolView.
"Our school community is unique, and so were our specific needs for our new website," St. Ursula's Vice President of Communications Jill Cahill said. "We worked to determine the tools and functions that would be ideal for our website visitors and created a vision and concept."
Vega Digital Awards is an international competition catered to all creative professionals who inspire through concept, writing or design through traditional or electronic media. eSchoolView, a website design firm and developer of education software based in Columbus, Ohio, and launched the new site for the 2017-18 school year.
Rob O'Leary, eSchoolView's, executive director said his team works closely with clients to ensure very specific needs are met. Saint Ursula has been a client since 2013.
"Our goal is to deliver a product that effectively shares essential information with a school or educational organization's primary audiences and builds unique relationships," he said. "We do that in conjunction while celebrating our client's brand through a system that is efficient for staff."
Vega Digital Awards is administered and judged by IAA Global and a carefully selected panel of internationally-recognized creative professionals. Entries in 200+ professional and student categories were rated according to rigorous standards. During the blind judging period, the panelists searched for and identified the most innovative and creative concepts, the strongest executions, and the highest quality in the digital media. Winners were selected from a broad scope of categories, from broadcast and print to social media and emerging platforms.
"The eSV team was extremely helpful and supportive," Cahill said. "They worked with us from concept to launch, offering expertise and creativity every step of the way. We were confident they were the right team to help bring our vision to life in a customized way. The final product has received raved reviews."
The Saint Ursula website was built on a content management system eSchoolView created specifically for education-based clients. Updates to the CMS and other software the company develops are based directly on client feedback.
"Identifying new ways to meet the needs of our clients is one of the reasons we have a retention rate that surpasses 97 percent," O'Leary said.
eSchoolView works with public, private, charter and faith-based K-12 schools across the United States. Its easy-to-use Content Management System (CMS) and other integrated products help districts expand their reach by embed blogs, surveys, RSS feeds, e-newsletters, podcasts, videos and live broadcasts.
The award-winning company was created in 2008. Most significantly, eSchoolView was named to the Inc. 5000 list of fastest growing privately held companies in the U.S for the 4th consecutive year, an accomplishment that puts it in rare company.
This year's Vega Awards competition included entries from 32 countries around the world.
Website: http://vegaawards.com
Twitter: https://twitter.com/iaa_awards
Facebook: https://www.facebook.com/iaaawards