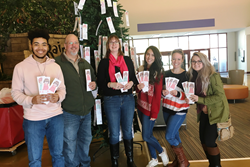 Hopefully, our campaign will encourage other companies to step out of their busy schedules long enough to allow this kind of initiative.
Grapevine, TX (PRWEB) December 15, 2017
Texas-based Empower Brokerage Inc., a company dedicated to helping seniors & individuals find the right life, health, and senior insurance solutions, often finds ways to give back to the community. They are a part of the UCT (United Commercial Travelers) Empower Council 2008, a 501 (c) non-profit financial services membership organization that supports communities through volunteer opportunities throughout North America.
The company regularly supports the efforts of the Ronald McDonald House charities and has a long-standing tradition of providing, cooking, and serving families who have been displaced, due to a child's illness or treatment at Cook Children's Medical Center in Fort Worth, Texas.
This holiday season, the Empower Brokerage marketing team decided to promote the spirit of giving to its home office staff and gave back to the Dallas/Fort Worth community by adopting 16 Angels from the Salvation Army's well-known Angel Tree program. Allison Shipman, a marketing team member, led the project, handled logistics, and contributions while the company CEO, Rodney Culp, pledged to match each employee's contribution, utilizing the UCT charity fund.
Every year, the Salvation Army organizes the Angel Tree program. The initiative was founded in 1979 by Majors Shirley and Charles White, in Lynchburg, Virginia. Their vision was to have a direct positive effect on those who are less fortunate in the community. The first year of the program, Lynchburg residents helped about 700 children in need. Since then, the program has expanded to more states and helps thousands of families all over the United States.
In DFW, the Angel Tree community provides items for underprivileged children and seniors with special needs. Shopping malls, schools, churches, corporations, other organizations, and volunteers all come together every year to help these families in need. Families apply for assistance during Christmas through the Social Services program of The Salvation Army.
Marketing Director, William Bronson, says "Hopefully, our campaign will encourage other companies to step out of their busy schedules long enough to allow this kind of initiative. It helps the staff come together, as a team, to support a great cause, benefitting others. It was a fun event for us, brought us closer together, and everyone felt great about giving. Allie did a great job heading this initiative and we're hoping to expand it in future years".
Giving is contagious, as evidenced by the response from Empower Brokerage clients. Regional Sales Manager, David Russell, met with some clients and, when they heard what was happening, also wanted to contribute to the Angel Tree Initiative. After their appointment, they returned to the office with two boxes of diapers for David's Angel.
"There must be something in the air when your clients see that, as an organization, we participate in giving back to the community and next thing you know there are boxes of diapers for one of the angel tree recipients sitting on the reception desk -it's a great feeling," says David.
Such generosity proves that people are in a charitable spirit this time of year and want to give to those less fortunate than themselves. Empower Brokerage and their Angel Tree Initiative brought that charitable spirit to light within their employees, and their clients.
Empower Brokerage has set up several websites to help consumers with education, price quotes and to request contact directly.
EmpowerMedicareSupplement.com , EmpowerHealthInsuranceUSA.com, and EmpowerLifeInsurance.com are three of them. Their Facebook page, dedicated to seniors, is Facebook.com/EmpowerMedicareSupplement.