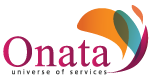 EDISON, N.J. (PRWEB) December 14, 2017
Onata, Universe of Services, is creating a unique ecosystem for seeking small gigs like "move my bed from one room to another" to a big project like "build my home" OR, "walk my pet for 30 mins" to "help my child with 5th grade math homework" by their name. Onata promises to offer every serviceable gig efficiently, on demand, and at the convenience of users.
The current services apps lack the completeness in their solution to the service needs of the service-seekers. The service-seekers, either postponing the service, or not doing the work for the non-availability of the service providers or prohibitively high price of the service, or non-availability of time to be spent along with providers, or lack of trusted providers. In case the seekers want to do a service by themselves they are again postponing or not doing because they don't have the tools. Onata is addressing every single problem that is relating to the word "service".
To fuel the growing anticipation around its launch early next year, Onata is launching a new referral program, Onata Insider, soon. Krishna Vemuri, CEO of Onata describes the contest as "the best way to get a hands-on experience of the services ecosystem on Onata as early birds." He adds: "Onata Insiders will experience Onata's features, UI and give valuable feedback apart from getting perks for referring other users."
Jyoti Vazirani, the co-founder of Onata adds, "Onata Insider is pitched to be a referral based that allows participants to climb up the leaderboard by referring more of their friends, families, seekers and providers of services. The details of this exciting program will be announced next week while kicking off the program."
About the Company
Onata.com is a services eco-system available on web and app stores for service providers and seekers Onata will be available through App Store, Play Store, and as a web app soon.
For more information, please contact:
Krishna Vemuri, Onata
Phone: 732-236-8877
Email: kvemuir(at)onata.com
Website: http://www.onata.com