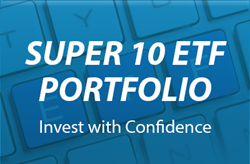 "Our new 'Super 10 ETF Portfolio' Signals Service will make it much easier for Australian ETF Investors to tackle the 3 main problems of WHICH ETFs to buy, WHEN to buy and, more importantly, when to SELL."
SYDNEY (PRWEB) December 15, 2017
ShareTradingEducation.com has developed an innovative 'Super 10 ETF Portfolio' Signals Service to help Australian ETF investors know with confidence:

WHICH Exchange Traded Funds (ETFs) to Buy,
When to BUY those ETFs
When to HOLD them and
When to SELL
The new 'Super 10 ETF Portfolio' Signals Service provides step-by-step assistance to lead members through the complete ETF Investing process, from Entry to Exit. This includes a strong emphasis on Money and Risk Management to protect capital and profits.
Since 2005, ShareTradingEducation.com is the home of Jim Berg's hands-on weekly mentoring-style 'Investing and Online Trading' stock market Report. Jim has been trading and investing in the markets for over 30 years, including 18 years as a professional broker.
Jim Berg advised his Report members to switch to cash in early Jan 2008, then gave a re-entry Signal in June 2009 Those members who followed his lead did not lose millions of dollars between them during the GFC.
Angela Atkinson, CEO of ShareTradingEducation.com, said: "Over a quarter of a million Australians now have ETFs in their portfolio. The increased liquidity and accessibility of ETFs is attracting investors of all ages - from Millennials, through Generation X to Baby Boomers."
"There is currently an overwhelming total of over 250 ETFs to choose from in Australia alone! However, many may be in falling trends, so they may continue to fall in price. Others may be relatively illiquid."
"The other challenge many new and experienced investors often face is that they do not know when to enter or exit a position."
"Our new 'Super 10 ETF Portfolio' Signals Service will make it much easier for Australian ETF Investors to tackle the 3 main problems of WHICH ETFs to buy, WHEN to buy and, more importantly, when to SELL."
"We select 10 liquid ETFs from the Australian and global markets which are in rising trends. Each ETF may be purchased in a similar way to shares on local share trading platforms in Australia, so there is no need to open a separate overseas account."
"For each ETF, we suggest a maximum Buy Price and, most significantly, no less than 5 structured Exit Strategies should any individual ETF - or the whole notional portfolio - fall below pre-set levels."
"On behalf of our ETF Signals members we monitor all 10 ETFs daily and provide weekly updates of prices, Stop Losses and summary status."
"To help protect capital and profits, we will also notify Members when any Exit Signals are generated." said Angela Atkinson.
Please note that whilst ETFs generally have lower volatility, they are still a financial product open to risks associated with market forces and unpredictable events which may affect their performance."
The new 'Super 10 ETF Portfolio' Signals Service is designed to help Australians invest in ETFs with confidence. It is now available at ShareTradingEducation.com.