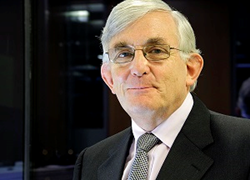 Fellow ACRES Director, Briggs Morrison, noted that "Dr. Buckley brings to the Board remarkable expertise and experience in both clinical research and policy development, and systems engineering. His insights and guidance will be invaluable."
CAMBRIDGE, Mass. (PRWEB) December 14, 2017
The Alliance for Clinical Research Excellence and Safety (ACRES) welcomes Professor Brendan M. Buckley, MB, DPhil, FRCPI, former Chief Medical Officer of ICON, to the ACRES Board of Directors.
Dr. Buckley brings expertise from over 30 years' experience in clinical research and academic clinical practice in endocrinology, diabetes and pharmacology to support ACRES mission of building a global system for accountable clinical research.
The innovative philosophy behind Buckley's work, visible in his influential book, Re-engineering Clinical Trials and more than150 scientific papers, aligns with and furthers ACRES mission to develop a much-needed integrated global system for biomedical research.
ACRES, a global non-profit multi-stakeholder alliance operating in the public interest, applies systems thinking to building this system, a necessary but often difficult—and disruptive—paradigm shift for pharmaceutical leaders and their day-to-day operations approach. With nearly 150 strategic allies and partnering organizations, including big and small pharma, CROs, professional organizations, tech companies, research service providers, clinical research sites, ethics review boards and patient interest groups, ACRES continues progress toward realizing of this vision.
"The ACRES system approach, which both harnesses and relies on understanding the energies and expertise of all of our diverse stakeholders, will enhance the safety, quality and efficiency of clinical research and drug development worldwide and industry-wide," said Dr. Buckley.
Buckley's wide-ranging experience buttresses this understanding—in addition to his work at ICON and as Director of the European collaborative Centre for Clinical Trials in Rare Diseases, he has served as a member of the Board of Directors of Ireland's national health products regulator, the Irish Medicines Board (including as chair of its statutory Advisory Committee for Human Medicines), the European Medicines Agency Committee for Orphan Medicinal Products (COMP) and the EMA Scientific Advisory Committee on Diabetes and Metabolism.
His entrepreneurial bent—always much needed in any charitable organization planning—resulted in the co-founding of Firecrest Clinical (now part of ICON), which focused on improving the performance of clinical trial sites.
Buckley's experience directing large outcomes trials and chairing independent data and safety monitoring boards for large clinical development programs brings an insider view to ACRES Site Accreditation and Standards Initiative (SASI). His non-executive director role with Breakthrough Cancer Research, a cancer research charity, adds to ACRES continuing work on former Vice President Biden's-directed Cancer Moonshot initiative.
Through integrated information technologies, enabling connectivity and interoperability as well as standards, policies and practices across the global drug development enterprise, this open system will benefit all stakeholders.
ACRES President and CEO, Dr. Greg Koski, welcomed Dr. Buckley's addition to the Board, saying, "It is hard to imagine an individual with a better set of experiences and qualifications to help ACRES at this pivotal time that Dr. Brendan Buckley—we are thrilled to have him as part of the team!"
Fellow ACRES Director, Briggs Morrison, noted that "Dr. Buckley brings to the Board remarkable expertise and experience in both clinical research and policy development, and systems engineering. His insights and guidance will be invaluable."
ACRES
The Alliance for Clinical Research Excellence and Safety (ACRES) is a non-profit multi-sector alliance working in the public interest. It brings together diverse stakeholders across the clinical research ecosystem, leveraging their expertise to collaboratively build an open, integrated global system based in principles of Accountable Research™ and adapting lessons from industries that successfully implemented principles of systems and safety engineering, such as transportation, communications and information technology. For more information, please contact Mary F. Tobin, PhD, Special Advisor to the President and CEO at mtobin(at)acresglobal(dot)net