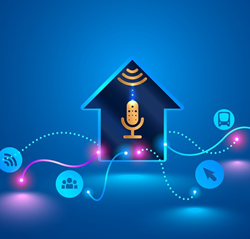 Just as IoT technology improves productivity in the office, the latest generation of smart home connected devices make homes more efficient and secure.
Hoboken, New Jersey (PRWEB) December 14, 2017
A NYC area retail and small business technology consultant and MSP shares an update on Internet of Things (IoT) connected smart home technology in a new article on the eMazzanti Technologies website. The technology refresh highlights several examples of the latest connected devices designed to improved home security, make kitchens smarter and simplify home maintenance.
In the informative article, the company also lists several IoT home technology items for buyers looking for budget-friendly smart home tech. Items such as smart lighting, smartphone-controlled electrical outlets and the latest Amazon Echo Dot appear on a "Devices to Get You Started" list.
"Smart IoT home technology has come a long way," stated Jennifer Mazzanti, President of eMazzanti Technologies. "Just as IoT technology improves productivity in the office, the latest generation of smart home connected devices make homes more efficient and secure."
Below are a few excerpts from the article, "IoT Home Technology Comes of Age."
"You already know the value of the Internet of Things (IoT) at work. You monitor office security with an app. Connected point of sale systems feed data to your online inventory and analytics. Now more than ever, you can bring that convenience home with the new generation of IoT home technology."
Improved Security
"Smart doorbells continue to add features. You already expect excellent video quality and two-way audio that allows you to speak with visitors even when you are away from home. Add infrared night vision, motion sensors and quiet mode, even facial recognition from Nest and feel the peace of mind."
Simplified Home Maintenance
"Robot vacuums are nothing new. However, the Neato Botvac Connected D7 just raised the bar. Like other robot vacuums, the D7 keeps your house clean while you work or play. In addition, with the improved mapping function, you can mark "no go" boundaries to keep the vacuum away from the dog's water bowl or tricky corners."
5 IoT Home Technology Devices to Get You Started >>
Work Smart, Live Smart
Now more robust and feature-rich, IoT home technology brings convenience to the front door, allowing homeowners to focus on the things that matter most. Greater efficiency and enhanced security from the latest generation of connected home devices appeal to greater numbers of consumers. eMazzanti Technologies encourages homeowners to save energy, protect their families, and step into the future with smart IoT home technology.
Related resource information:
Perfect Tech Gifts for Telecommuting Professionals
Grow Your Business with Section 179 Tax Deduction for Technology Investment
About eMazzanti Technologies
eMazzanti's team of trained, certified IT experts rapidly deliver retail and payment technology, digital marketing services, cloud and mobile solutions, multi-site implementations, 24×7 outsourced network management, remote monitoring and support to increase productivity, data security and revenue growth for clients ranging from law firms to high-end global retailers.
eMazzanti has made the Inc. 5000 list eight years running, is a 2015, 2013 and 2012 Microsoft Partner of the Year, 2016 NJ Business of the Year, 5X WatchGuard Partner of the Year and one of the TOP 200 U.S. Microsoft Partners! Contact: 1-866-362-9926, info(at)emazzanti.net or http://www.emazzanti.net Twitter: @emazzanti Facebook: Facebook.com/emazzantitechnologies.