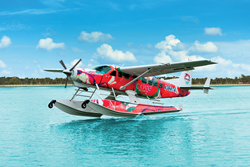 Our company takes every measure possible to create a faster, more enjoyable travel experience to this magnificent destination
PARADISE ISLAND, Bahamas and FORT LAUDERDALE, Fla. (PRWEB) December 14, 2017
Following the recent star-studded relaunch of the ultra-luxury enclave at Atlantis - The Cove, Paradise Island and Tropic Ocean Airways announce their new program: the "Fly & Stay" experience. This collaboration between the two brands emerged from the growing demand in South Florida for a premier concierge-style arrival and departure when travelling to The Cove, Paradise Island. Tropic Ocean Airways' wheeled and seaplane flights will fly roundtrip, originating from Fort Lauderdale, West Palm Beach and the Miami Seaplane Base, located minutes from downtown Miami, to Nassau, Bahamas.
Audrey Oswell, President & Managing Director of Atlantis Paradise Island shared, "We are thrilled to welcome Tropic Ocean Airways to our cadre of luxury service collaborations and to be able to offer the guests of The Cove the utmost convenience and exclusivity. By joining forces with Tropic Ocean Airways, we are able to ensure our guests have seamless service from their home to our home, traveling in the comfort of an intimate aircraft that features private, luxury amenities to our oceanside suites serviced with unparalleled Bahamian warmth."
The "Fly & Stay" program offers guests VIP status from arrival at Tropic Ocean Airways' facility at the Miami Seaplane Base or at Tropic Ocean Airways' Sheltair location on the field at Fort Lauderdale International Airport (FLL), both such locations provide passengers with a private departure lounge for relaxation prior to take-off. Tropic Ocean Airways' dedicated lounge staff assists with the flight check-in process, official security measures, and concierge services related to guests' journeys. With these VIP privileges, guests are able to bypass the hectic airport terminals often found when flying commercial.
Upon arrival in The Bahamas, guests will be met by private SUV to whisk them to The Cove for VIP check in to their suite. A personal concierge will help guests create the ultimate itinerary at the resort, ranging from luxe cabana rentals at the new Cove Pool, which sits on miles of white sand beach to reservations at any of the resort's many extraordinary dining outlets – from the beachfront Sip Sip to Nobu at the resort's world-class casino to Jean-George Vongerichten's Café Martinique overlooking the stunning Atlantis Marina.
"We understand that today's luxury travelers do not want to spend their vacation waiting around in airports. Our company takes every measure possible to create a faster, more enjoyable travel experience to this magnificent destination," Tropic Ocean Airways' CEO, Rob Ceravolo commented.
All Tropic Ocean Airways' flights to and from The Bahamas feature premium seating for up to eight passengers each carrying up to 30lbs of baggage, aboard a two-pilot crewed Cessna aircraft, seven of which were delivered to Tropic Ocean Airways brand new from the aircraft manufacturer. Every aircraft features spacious luxury interiors and is fully air-conditioned. Upon arrival into Nassau, Tropic Ocean Airways utilizes a private Fixed Based Operator (FBO), which gives guests of The Cove the ability to seamlessly exit the aircraft, clear Bahamas customs and continue to Paradise Island as quickly and efficiently as possible.
The departure process from the resort to Florida is equally chic and simple. The private transfer back to the FBO in Nassau provides the advantage of pre-arrival only 45 minutes prior to the scheduled departure time versus the often required three hours mandated by larger commercial air carriers departing for the United States. The "Fly & Stay" program allows guests of The Cove to spend more time at the resort and less time at the airport, while simultaneously reaping the benefits of VIP luxury air travel.
Tropic Ocean Airways' flights can accommodate up eight guests each carrying up to 30lbs of baggage, per flight. The "Fly & Stay" program can be booked on line at reservations(at)flytropic(dot)com. Rates for accommodations at The Cove begin at $439/per night, based upon availability. For more information go to: https://flytropic.com/travel-packages/the-cove-at-atlantis/.
About The Cove, Paradise Island:
The Cove, the 600-suite resort on Paradise Island, raises the bar among distinctive resort destinations. The ultra-luxury property is elegantly situated between Cove and Paradise Beaches, within the 171 acres that comprise Atlantis Paradise Island, creating the feeling of being cast away on a private, white-sand sanctuary. Designed by acclaimed interior architect, Jeffrey Beers of Jeffrey Beers International (JBI). The Cove features an open-air lobby, sensual suites and super suites, Escape retail store, dining, bespoke amenities and purposeful service delivered with Bahamian warmth. Private all-adult and family pools, lavish cabanas and breathtaking views of the ocean are featured every turn.
About Atlantis, Paradise Island:
Atlantis, Paradise Island is a lush, oceanside resort located on Paradise Island in The Bahamas. A dynamic destination that launched 20 years ago as a first-of-its-kind modern marvel of nature and engineering, Atlantis has embarked on a new chapter tied to a meaningful connection with the ocean, Bahamian culture and the spirit of the property's over 7,500 employees. The resort's new, immersive programming connects guests to the rich history, art, people, food and festivities of The Bahamas.
Atlantis features five distinct properties in which to stay, from the iconic Royal Towers to the original Beach and Coral Towers to the newly built luxury properties, The Cove and The Reef. The Coral has reopened as a fully redesigned family escape with a new lobby, new rooms, and new amenities – with a new pool to officially debut in November 2017.
The resort is built around Aquaventure, an innovative, 141-acre waterscape of thrilling slides and river rides, pools and white sand beaches. Home to the largest open-air marine habitat in the world, over 50,000 marine animals from 250 species make their home in the ocean fed environments. From unparalleled meeting and convention space to the luxury Atlantis Marina accommodating yachts up to 220 feet in length overlooking Marina Village, a Bahamian marketplace, the Atlantis experiences are endless. Other resort amenities include the 30,000sf tranquil Mandara Spa, Atlantis Kids Adventures (AKA) for children ages 3-12 and CRUSH, a cutting-edge teen club.
The resort's award-winning 18-hole Tom Weiskopf designed golf course, renowned Atlantis Casino and duty free shopping are complemented by the property's 40 restaurants and lounges with celebrity chef culinary masterpieces including Nobu, by Nobu Matsuhisa; Olives, by Todd English and Casa D'Angelo by Chef Angelo Elia.
Dolphin Cay, the resort's 14-acre marine mammal habitat, is a state-of-the-art education center and animal-rescue rehabilitation hospital whose first residents were 16 rescue dolphins from Hurricane Katrina. Visitors to Dolphin Cay can participate in creative, non-disruptive "interactions" that build real awareness, stir emotion and help fund the resort's conservation efforts. Through these guest participations and those offered through Atlantis Marine Adventures, over $5 million dollars has been generated to support environmental conservation via the Atlantis Blue Project Foundation (ABPF), a nonprofit, 501(c)3 organization.
For reservations, visit http://www.AtlantisBahamas.com or call your travel agent or 800-ATLANTIS.
Follow Atlantis on Facebook at http://www.facebook.com/AtlantisBahamas, on Twitter at http://www.twitter.com/AtlantisBahamas, and on Instagram at http://www.instagram.com/AtlantisBahamas.
About Tropic Ocean Airways:
A United States' certificated commuter air carrier, founded by United States Navy TOPGUN fighter pilot Rob Ceravolo in 2009, which has safely transported nearly 20,000 passengers in 2017. Tropic Ocean Airways is the recipient of the highly-coveted ARGUS Gold rating for safety and enjoys a 5-star customer service rating on TripAdvisor. Mr. Ceravolo and his team of experienced professionals have developed and implemented standard operating procedures borrowed from the United States' military which ensure the highest levels of safety and service aboard each Tropic Ocean Airways' flight. Tropic Ocean Airways' fleet of Cessna Grand Caravan EX aircraft are extremely versatile and capable of safely landing on water and land; thereby making Tropic Ocean Airways the airline of choice for the discerning air traveler.