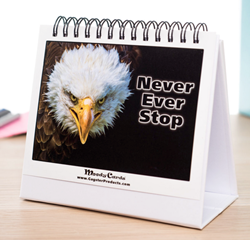 I was down and out, dead tired, going through major issues …I needed something to help me push through...
ST. PETERSBURGH, Fla. (PRWEB) December 18, 2017
WebGage Commerce Inc. has just released a new version of their popular unique gifts collection 'MoodyCards'.
Entitled 'MoodyMotivators', the new cards focus specifically on entrepreneurs of all ages by providing encouraging messages and reminders through inspiring wildlife images.
'When you need a good kick in the butt,' says Marty Gagnon creator of MoodyCards, 'that's when the cards work their magic.'
With over 16 million Americans now self-employed, Mr. Gagnon recognized the need for this type of product.
'I know there's a need, because I personally look at the cards every day myself. I've been self-employed now for 7 years, and I can't tell you how many times I needed a boost…I essentially created this product for me!'
The latest release features hand-selected, awe-inspiring wildlife pictures with accompanied messages specifically chosen for entrepreneurs. Encouraging Messages such as 'Never Ever Stop', 'Power Through It' and 'Outwork Everybody', along with practical reminders such as 'Get Sleep' and 'Stay Fit', help self-employed individuals to stay on track during rough times.
Mr. Gagnon produced the cards after a particularly trying time in his own business. 'I was down and out, dead tired, going through major issues …I needed something to help me push through. I've got lots of little positive messages written all over my desk, but wanted something more visual, something spectacular.
The latest motivational cards break from the trend of previous Moodycard products which have a humorous spin to them and sold as funny gifts. However, the new cards keep the same look and feel of earlier versions, featuring over 20 cards with unique stunning wildlife images from gorillas, polar bears, eagles, wolves, and even ants.
'The pictures are everything' Mr. Gagnon says, 'we've chosen very precise images for each distinctive message. The pictures truly speak the words. It's amazing how powerful a picture of a bald eagle staring right at you can be. It's why we see so many animals representing sports teams, we connect and resonate with the strengths of those animals.'
Mr. Gagnon hope that the cards will connect with a wide audience and make their way into the office place.
'They are absolutely amazing office gifts. Its definitely something I would buy my staff, or fellow employees, or really, anyone in all walks of life. It applies to athletes as much as it does to business owner.
'In the end, the cards were designed with one sole purpose,' says Mr. Gagnon 'to give you a big boost when you need it.'
Moodycards are currently sold exclusively on Amazon.com.