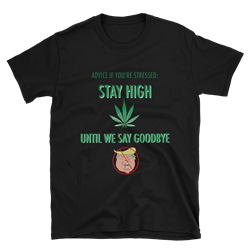 (PRWEB) December 14, 2017
STAY HIGH UNTIL WE SAY GOODBYE is a short sleeve unisex t-shirt, long sleeve t-shirt or sweatshirt, each available in white or black. At: STAYHIGHGOODBYE.COM.
Risarth Publishing reports that a portion of every sale will be donated to non-profits and other organizations that support liberal causes.
Richard S. Arthurson is at it again.
Last year, his book Ronald The Grump (an illustrated adult fairy tale parable to the 2016 Presidential election) was #1 on Amazon Kindle in Politics & Humor, New Apple Literary named it the 2016 Self-Published General Fiction eBook of the Year, and Reader's Favorites gave it a 5-Star review (calling it 'a literary satire of epic proportions') while also awarding the book a Bronze Medal in its International Book Awards.
Today, Richard and his publisher, Risarth Publishing, LLC, are announcing the release of their new anti-Trump stress-reducing t-shirts and sweatshirts, STAY HIGH UNTIL WE SAY GOODBYE.
Even before the shirts went on sale people who had seen prototypes placed advanced orders, and when the shirt was released on 12/10/17 there were immediate sales.
There are two versions of the shirts. One features a marijuana leaf for those who want to stay high through weed while the other version is for those who stay high on drink, music, art, life or anything else that reduces their stress.Have fun and give some great advice!
VISIT: STAYHIGHGGOODBYE.COM