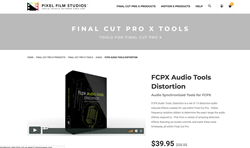 Aliso Viejo, CA (PRWEB) December 13, 2017
FCPX Audio Tools Distortion is a set of 13 distortion audio induced effects created for use within Final Cut Pro. Utilize frequency isolation sliders to determine the exact range the audio effects respond to. Pick from a variety of distortion effects featuring on-screen controls and stack these tools, all within Final Cut Pro.
FCPX Audio Tools Distortion features 13 distortion effects that respond to the audio in your timeline. Choose from wavy effects such as underwater and ripple, to media warping bulge and scrape effects. Additionally, Audio Tools includes distortion effects with on-screen controls such as target, twirl, and scrape.
FCPX Audio Tools Distortion responds the full range of frequencies of the music inserted by default. However, users can use the low and high frequency sliders to isolate a desired range. With these two controls, editors can allow anything from the lowest rumbles to the highest pitches to affect objects in Final Cut Pro.
FCPX Audio Tools Distortion can be stacked limitlessly in Final Cut Pro. Place various effects and different frequency ranges to the same logo, text, or media to interesting effects that react to different frequencies within the music. It is important to note that the hierarchy of the effects will create a unique look.
FCPX Audio Tools Distortion works with logos, media, and text. Using Audio Tools is simple. Start by dragging an effect directly onto a layer in the timeline. Next, select "Choose Song" in the inspector menu and insert an audio file. Lastly, drag the audio file into the timeline directly under the effected clip. If the clip you want to affect begins after the audio begins, simply use the frame offset slider to sync up the audio.
Established in 2006, Aliso Viejo, California-based Pixel Film Studios is an innovative developer of visual effects tools for the post-production and broadcast community. Their products are integrated with popular non-linear editing and compositing products from Apple FCPX. Apple, the Apple logo, Mac OS X, and Macintosh are registered trademarks of Apple Inc. in the U.S. and/or other countries. All other trademarks and trade names are the property of their respective owners.