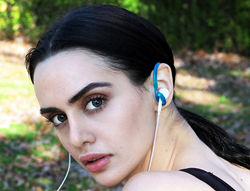 I wanted a solution to keep my earbuds secure that wasn't only functional, but beautiful as well.
NEW YORK (PRWEB) January 17, 2018
Comfortech LLC launched a Kickstarter campaign for Podbudy, an easy way to convert earphones to sports earphones when working out, so they never fall out. Going mad having to constantly adjust one's earbuds during a morning jog, or while stepping it up on cardio at the gym or practicing choreography is now an issue of the past, thanks to the unique design of Podbudy. Podbudy is carefully engineered to work with a wide range of earphones and is made using a custom resin material that is bio-sourced from nearly 65% from renewable resources.
"I discovered it was a common experience for almost anyone, the constant battle to keep earphones in when you worked out. Frustrated with solutions available in the market, I set out to create a product that worked with any earphone you own and held firm no matter how hard you train or how fast you move," said Shiva Palani, creator of Podbudy, and founder of Comfortech. "I wanted a solution to keep my earbuds secure that wasn't only functional, but beautiful as well."
With a stylish, comfortable and easy-to-use design, Podbudy fits snugly around the user's ears and adapts to hold the user's earbuds, so that they never move and distract the user during a workout again. Podbudy is designed with flexible yet strong material, so that it's comfortable and durable enough to withstand even the most vigorous activities. Each order also comes with a handy pocket case for easy storage of both Podbudy and the user's earphones, with an innovative design to coil around the earphone's cord around the case.
Comfortech spent over a year in developing Podbudy, testing over 20 iterative versions of prototypes with over two hundreds test users, before completing a pre-production run this fall, with soft tooling, to perfect the product. Armed with the final molded Prototype, Comfortech conducted a public survey of the product on the streets of NYC, inviting New Yorkers to try out the product and offer their feedback and thoughts on Podbudy, which can be seen here.
For this Kickstarter campaign,the team is offering Podbudy in a variety of six colors: Clear, Amber, Turquoise, Ruby, Graphite, Snow (all translucent). In exchange for pledging to the project, backers can gain access to a variety of rewards including two pairs for the Kickstarter Special of $18, three pairs for $26, and more, at about 50% off the expected retail price.
Podbudy is now available now for pre-order on Kickstarter here. Comfortech aims to raise funds for final tooling and the first factory order for Podbudy through this Kickstarter campaign, that will be open until March 15th 2018. Comfortech says the first batch of Podbudy will ship to backers by late April 2018.
For more information, download the press kit​ h​ere ( http://podbudy.us/presskit)
Podbudy Kickstarter Campaign: http://podbudy.us/kickstarter_pr
Press Contact:
Email: press(at)podbudy(dot)com
Phone: (203) 998 0021