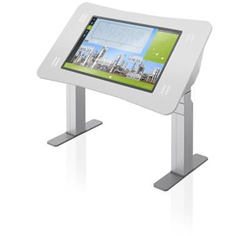 Viewport is rapidly gaining recognition as a leading solution for owner operators in process manufacturing industries to search and connect their asset data
WOERDEN, The Netherlands (PRWEB) December 19, 2017
Radial SG announces an agreement with ABB to include an OEM license of Radial SG Viewport to connect with the CGM P&ID Viewer with every Collaboration Table supplied.
The Collaboration Table is an ergonomically designed 55-inch touchscreen table designed specifically for control rooms in process manufacturing industries. Viewport is a powerful engine incorporating machine learning and shape recognition technology to automatically search and connect asset information from various sources, building tag-document links to provide a single view of all asset data.
The Viewport engine will be used to power the P&ID Viewer on the Collaboration Table, enabling users to collaborate and interrogate asset data on a large format touch screen. Users can choose to upgrade to a permanent licence to unlock the full features and benefits of Viewport on the Collaboration Table.
Mark van 't Zet, CEO of Radial SG, commenting on the agreement said, "This is an exciting development in the Radial SG / ABB relationship. Viewport is rapidly gaining recognition as a leading solution for owner operators in process manufacturing industries to search and connect their asset data. By adding our technology to the CGM P&ID Viewer, end users can create their own integrated view from a set of documents in a matter of minutes."
About Radial SG
Since its inception in 2010, Radial SG has actively answered the data management questions of asset focused industries. The Viewport solutions were created to solve real world problems where people have to find, connect and make decisions based on data of differing sources, age and quality.
About ABB - Control room solutions
Create products and services for the control room environment that helps drive productivity, quality, and safety to new levels.
Control room operators make hundreds of decisions every day – decisions that have a great impact on productivity, quality and safety. The more alert, stimulated and harmonious they are, the better decisions they make.