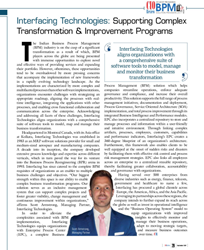 Organizations are now inclined towards processes that are easy to build and change as-needed, updated when necessary, and managed by the business users themselves, reducing the reliance on IT
Kolkata, India (PRWEB) December 14, 2017
Interfacing Technologies is pleased to announce its recognition by CIOReview as one of the 20 most promising BPM solution providers! CIOReview serves as a leading source of knowledge on rising enterprises and innovative technological trends.
As enterprises move towards modern digitization and revolutionizing industrial operations, firms have progressively recognized the need to implement Business Process Management (BPM) software. BPM serves as a powerhouse tool that delivers increased productivity while lowering operational costs. Thanks to its ability to match organizational objectives with the organization's technological capabilities, BPM can help organizations to effectively adapt at a more rapid pace, in turn providing a competitive edge and leading to improved performance.
"Organizations are now inclined towards processes that are easy to build and change as-needed, updated when necessary, and managed by the business users themselves, reducing the reliance on IT. [...] What's more is its ability to enable organizations to operate in compliance to various industry standards and government regulations," as stated in CIOReview.
Interfacing is a leading business process management solutions provider; its flagship product, the Enterprise Process Center® (EPC), enables companies to streamline their operations, institute quality governance and control measures, and increase overall productivity. EPC is a process intelligence solution that eases the digitization journey from blueprinting to automation and rollout. EPC aims to increase agility by aligning the current As-Is to the future To-Be state as well as promoting ongoing continuous improvement across the organization. EPC's personalized views based on role and security supports collaboration across departments within a single repository: holistic performance dashboards and high level frameworks for management, detailed processes, policies & procedures for operations, and risk and control assessments for audit.
"Our biggest strength is our ability to enable complex business transformation programs. Our solution serves as an inclusive management system that can support complex projects and foster greater visibility, change management, and continuous improvement within organizations" says Scott Armstrong, Managing Partner of Interfacing. Interfacing is committed to continuously strive for innovations to support organizations manage the ever evolving challenges faced.