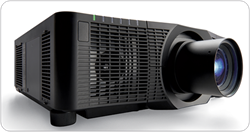 CYPRESS, California (PRWEB) December 19, 2017
Christie® is expanding its D Series lineup with three new value-priced single-lamp models, which are available with up to 8100 ISO lumens and both WUXGA and HD resolutions. With a combination of brightness, image quality, lens and resolution choice, and a compact form factor, the Christie D Series leads the market in balancing great overall value with the best price point in this projector class.
The new Christie D Series projectors offer 65,000:1 contrast ratio, 3,000 hours of lamp life, and easy integration - making them ideal for higher education, business, museums, houses of worship, government facilities, and selected rental and staging venues where they seamlessly integrate into any environment.
"For the more budget-minded user, the new LWU720i-D, LWU620i-D and LHD720i-D projectors are the most viable alternative to laser phosphor projectors, given their high brightness and feature-rich design at roughly half the cost of competitive laser-phosphor units," said Jim Hall, senior product manager, Christie. "Customers can also continue to use their full D Series lens suite - including the Ultra Short Throw (UST) lens - for even greater installation flexibility. And with new, more efficient 3LCD panels, these news models provide even better color and brightness than before."
The new Christie D Series models come with a three-year parts and labor warranty and ship in December 2017.
About Christie
Christie Digital Systems USA, Inc. is a global visual and audio technologies company and a wholly-owned subsidiary of Ushio Inc., Japan (JP:6925). Consistently setting the standards by being the first to market some of the world's most advanced projectors, complete system displays, and cinema audio solutions; Christie is recognized as one of the most innovative visual technology companies in the world. From retail displays to Hollywood, mission critical command centers to classrooms and training simulators, Christie display solutions and projectors capture the attention of audiences around the world with dynamic and stunning images, accompanied by awe-inspiring sound. Visit http://www.christiedigital.com.