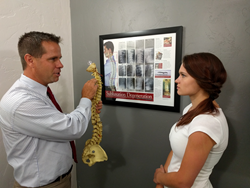 Pretty quickly we started noticing a difference. Her last seizure has been months ago.
FORT COLLINS, CO. (PRWEB) December 20, 2017
Dr. Jeremy Overholt DC practicing out of Inner Vitality Chiropractic reports recently providing care to twelve year old Victoria who suffered from repeated epileptic seizures daily. Through a course of chiropractic adjustments, Dr. Overholt claims to have achieved excellent results towards treating Victoria's seizure activity.
Victoria's mother informs that they had tried different traditional methods without much success before considering chiropractic treatment. In Victoria's case, the prescribed pharmaceuticals failed to deliver any noteworthy results. They even tried another chiropractor, and that too had no positive outcome.
The American College of Physicians has recently indicated that acute and sub acute back pain may be treated with non-drug therapies such as spinal manipulation as a means to help reduce the national opioid crisis. The benefits of Chiropractic therapy in reducing mechanical back and neck pain are well documented. However, the accomplishments of chiropractic outside of pain syndromes are often overlooked.
"Chiropractors are incredible at helping people feel better, but there is so much more to it than just pain relief," says Dr. Overholt. "Chiropractic can have an amazing effect on the nervous system allowing the body to work in the way it was supposed to."
Victoria's treatment at Inner Vitality Chiropractic involved a thorough evaluation and the use of a chiropractic technique known as the Torque Release Technique® (TRT). Originally developed by a chiropractor studying the neurological implications of chiropractic and addiction, TRT is a gentle instrument for neurological analysis and adjustment protocol.
Highlighting Victoria's condition after being treated by Dr. Overholt, her mother states, "We wanted to try something more of a natural route. Pretty quickly we started noticing a difference. It has been amazing for Victoria. She is now completely off medication. Her last seizure has been months ago."
Dr. Jeremy Overholt has been a practicing chiropractor and owner of Inner Vitality Chiropractic for ten years. He is highly rated by his clients in Fort Collins, CO. He provides care for those suffering with all sorts of pain disorders, but enjoys the complexity of health crises not traditionally viewed by the public as benefitting from chiropractic care.
More about Dr. Jeremy Overholt and his chiropractic techniques can be found at https://www.innervitalitychiropractic.com/
About Dr. Jeremy Overholt: Dr. Jeremy Overholt is a licensed chiropractor serving patients throughout Fort Collins, Wellington, Loveland and Windsor. Dr. Jeremy and the whole team at Inner Vitality are dedicated to providing the very best in chiropractic care. In addition to all types of pain disorders, he is also an exponent of health issues that not covered by the traditional approach to chiropractic care.