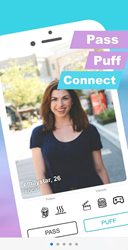 SANTA ANA, Calif. (PRWEB) December 15, 2017
Puffy App (http://puffyapp.com) has released an innovative social networking mobile application, which connects individuals interested in cannabis. A simple and user-friendly solution for individuals with the same interests are now able to search for friends or dating partners.
Gaining one new user acquisition per minute, Puffy App quickly developed a large community of passionate users. The app is available to download for free, and no membership is required. Puffy app is now offered on The App Store and is coming soon to Google Play.
Puffy App is a location-based social networking app that makes connections from the same interests, and events as other users. Existing key features of the Puffy App allow users to easily:

Create/host events on the newly added events.
Locate a further distance of cannabis enthusiasts via a distance bar.
Share unlimited photos on the Puffers Feed.
Send photo messages on the new messaging feature.
Puffy App is the answer for cannabis enthusiasts searching for other individuals with shared interests. "Overall great," said Mirabelle, an active user of the Puffy App. "This app saves me a lot of trouble. It's easier to meet other cannabis enthusiasts than meeting someone random and asking them if they like marijuana, not knowing if they have any interest in it."
Puffy App is now available on the App Store and coming soon to Google Play.
Visit http://puffyapp.com/ for more Puffy App information, including videos and the opportunity to sign up for newsletters to stay up to date on all Puffy App news.