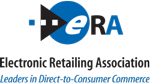 The FCC has effectively ended net neutrality, undoing years of hard work and bipartisan agreement.
McLean, VA (PRWEB) December 14, 2017
Today, Electronic Retailing Association's (ERA – Retailing.org) Vice President, Government Affairs, Bill McClellan, reacts to the Federal Communications Commission (FCC) ruling on the Restoring Internet Freedom Order.
"The FCC has effectively ended net neutrality, undoing years of hard work and bipartisan agreement," says McClellan. "It is unfortunate that the FCC has disregarded the will of millions of Americans who have contacted the commission to voice their fears and concerns of discrimination at the hands of a few large internet providers. Consumers and businesses big and small will suffer."
The Electronic Retailing Association supports the standards set forth in the 2015 Open Internet Order that insures blocking and throttling are not permitted. Our member companies will continue to fight to preserve these critical net neutrality protections. We fully support the reported efforts for further litigation of this ruling. In addition, we look to Congress for its leadership and oversight function to preserve and protect robust and enforceable net neutrality standards for all.
About the Electronic Retailing Association:
The Electronic Retailing Association (ERA) serves as the exclusive trade association representing the $350 billion direct-to-consumer marketplace. ERA membership spans the globe to encompass all levels of direct marketers, from start-up companies to global leaders that employ the power of direct response to market across all platforms including television, digital media, and radio to achieve a consumer-direct, measurable, and accountable response. In addition to helping grow its members' business opportunities and profitability as a major resource for networking, business tools, and information, ERA is the voice of the direct-to-consumer industry in the nation's capital, working daily to protect the regulatory and legislative climate in an ongoing effort to ensure direct response marketers' ability to bring quality products and services to the consumer. Through its acclaimed self-regulatory guidelines, ERA is dedicated to building consumer trust in direct response-marketed products and services. To learn more about ERA, visit Retailing.org.