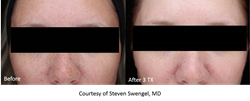 "LaseMD GLO is the perfect addition to your skincare routine," according to HKPS's medical director and facial plastic surgeon J. David Holcomb. "We are especially pleased to introduce LaseMD for the first time to our Tampa patients at our new Tampa facility."
SARASOTA, Fla. and TAMPA, Fla. (PRWEB) December 16, 2017
More than just a beauty device, LaseMD is also FDA approved to treat actinic keratosis (or AK) which is a pre-cancerous skin growth that in approximately 10% of patients could develop into squamous cell carcinoma within two years.
"I had a LaseMD GLO treatment a few weeks ago. The procedure was very quick and tolerable. I experienced some redness immediately following the treatment, but I was able to return to my normal activities right away and wear makeup the next day. It took a couple of days for my skin to exfoliate, but by day three, my complexion was much smoother and brighter." – Michelle, Manhattan, NY
See what all the buzz is about by booking your LaseMD GLO consultation today at Holcomb Kreithen's offices in Sarasota and Tampa!
Additional information is available at either http://www.sarasota-med.com or http://www.tampa-med.com.
About Holcomb Kreithen Plastic Surgery & MedSpa, PLLC
With offices located in beautiful downtown Sarasota and in Carrollwood (Tampa) Holcomb – Kreithen Plastic Surgery and H|K MedSpa offers a comprehensive range of aesthetic surgical and non-surgical treatments that enhance the lives of men and women. The founding physicians of the practice include J. David Holcomb, M.D. (Facial Plastic and Cosmetic Laser Surgeon) and Joshua Kreithen, M.D. (Breast and Body Contouring Specialist). The AAAASF-accredited Sarasota facility includes a private outpatient ambulatory surgical center while the Tampa facility includes a state-of-the art medspa in pleasant surroundings at Carrollwood Professional Center. Dr. Kriston J. Kent, MD, a highly successful Facial Plastic Surgeon from Naples, Florida recently re-located and has joined the practice at their Tampa location.
Holcomb – Kreithen Plastic Surgery is renowned for its expertise in facial plastic surgery, plastic surgery of the breasts and body and cosmetic laser surgery. Additional core areas of focus within H|K MedSpa include non- and minimally-invasive body contouring, facial aesthetics, medical hair restoration, laser skin rejuvenation and medical skin care. With its comprehensive range of services and dedicated staff the practice has developed a reputation as one of the most advanced centers in Florida. Receipt of the Allergan "Black Diamond Award" is an objective benchmark for the practice' success, ranking it among the top 1% of practices in the entire country providing Botox Cosmetic, CoolSculpting, Juvéderm (including Voluma, Volbella, and Vollure) injectable gel, Kybella, Latisse, Natrelle breast implants and SkinMedica skin care. Dr. Holcomb also participates in clinical research as a principal investigator with recent projects including a Phase III FDA clinical drug trial for a new neuromodulator and a clinical study of new dermal skin resurfacing technology.
The Holcomb – Kreithen Plastic Surgery and MedSpa staff is comprised of an extraordinary group of professionals whose primary goal is to safely empower individuals to reach their full potential. They are committed to treating patients and each other with kindness, compassion and dignity at all times. For more information, visit http://www.sarasota-medspa.com or http://www.tampa-med.com.