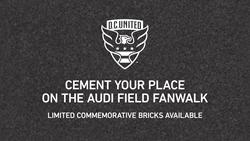 ...the Fanwalk leading to Audi Field - it's the perfect way for D.C. United fans to cement their legacy at this historic stadium.
BOISE, Idaho (PRWEB) December 19, 2017
Throughout its thirty years in the industry, Fund Raisers Sports (formerly known as Fund Raisers, Ltd.) has engraved hundreds of thousands of heartfelt sentiments, names, and team logos on brick, granite, stone and marble – all to be placed in prominent areas of the greatest sporting facilities in the United States, Canada and Mexico.
According to Tom Hunt, President of D.C. United, getting their fans involved in Audi Field was an important consideration in partnering with Fund Raisers Sports. "A key priority for Audi Field is to create a place that D.C. United fans call their own," he said. "We are pleased to partner with Fund Raisers Sports to provide our fans with a chance to add their names to commemorative bricks in the Fanwalk leading to Audi Field – it's the perfect way for D.C. United fans to cement their legacy at this historic stadium." The prominent Audi Field Fanwalk will run along Potomac Avenue leading up to the fan plaza and main entry gate.
As sports teams continue to search for opportunities to strengthen their connection to fans, Fund Raisers Sports has been the go-to partner for turnkey fan engagement. The formula behind the success of these fan engagement programs is simple, says Karen Lockner, owner and CEO of Fund Raisers Sports: "Fans want to be part of their team and teams are continuously looking for a tangible way to offer a personalized fan experience. Providing fans the opportunity to have a permanent place at the stadium, ballpark, arena or field is a win-win. How better to declare your undying team spirit than with a brick or tile engraved with your name at your team's home that will be seen by thousands for many years to come?"
ABOUT D.C. UNITED
One of the founding clubs of Major League Soccer in 1996, D.C. United are the most decorated team in the United States with 13 domestic and international trophies, and the most championed professional team in the District of Columbia. The Black-and-Red have won the MLS Cup four times (1996, 1997, 1999 and 2004), the Supporters' Shield four times (1997, 1999, 2006 and 2007) and the Lamar Hunt U.S. Open Cup three times (1996, 2008 and 2013). United have called the District home for the past 21 years and will continue that tradition as they move into Audi Field in Southwest D.C. in 2018. The state-of-the-art urban facility has a capacity of 20,000 fans and will feature 31 luxury suites, a bike valet, and 500,000 total square feet of mixed-use retail and residential space on site, making it a 365-day destination for fans and D.C. residents alike. For more information, visit: http://www.dcunited.com.
ABOUT FUND RAISERS SPORTS
Founded in 1987, Fund Raisers Sports (formerly Fund Raisers, Ltd.), is celebrating 30 years as the leading provider of turnkey, revenue-generating fan engagement and retention campaigns to support the sports industry and beyond. The Boise-based, female-owned company whose humble beginnings commenced with Owner Karen Lockner blasting bricks for a Boise community project in 1987, is now a trusted partner to some of the most powerful brands in sports, Fund Raisers Sports list of clients includes the San Francisco Giants, Dallas Cowboys, Minnesota Vikings, Boston Red Sox and many more across MLB, NFL, NHL, NBA, MLS, NASCAR and the collegiate landscape. For more information, visit http://www.fundraiserssports.com.