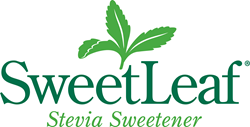 Gilbert, Ariz. (PRWEB) December 15, 2017
This holiday season, SweetLeaf® Stevia Sweetener is making it easier than ever for consumers to reduce added sugars in their favorite holiday foods, beverages, and recipes. With the launch of the Making One Sweet Change campaign, SweetLeaf has produced a digital Holiday Cookbook and video which illustrate how families can make one simple change in their meals beginning with just one product in one recipe. The video emphasizes meal time as family time which is intended to be a wonderful opportunity to put away all electronic devices and communicate as a family around the dinner table.
SweetLeaf's free Holiday Cookbook is available online and is filled with recipes which provide a no-sugar-added take on festive classics. The cookbook embodies SweetLeaf's Making One Sweet Change message. By starting with just one simple change in your life, that change can be the impetus which leads to the beginning of even more changes, leading to a healthier lifestyle. Whether you start with an easy cookie recipe, or an everyday beverage, substituting SweetLeaf Stevia Sweetener in place of sugar can lead to a very easy way to improve your dietary habits deliciously. One sweet change can be the pathway to changing your lifestyle for the healthier!
The American Heart Association recommends a daily added sugar limit of no more than 9 teaspoons/36 grams/150 calories for men, and 6 teaspoons/25 grams/100 calories for women and children (ages 2-19). With excessive added dietary sugars linked to increased risk of diabetes, obesity, and cardiovascular disease, SweetLeaf aims to offer a deliciously satisfying alternative which can help consumers meet this important recommendation.
The Holiday Cookbook includes recipes for mouthwatering dishes like Brown Butter Sweet Potatoes, Spiced Apple and Havarti Stuffed Turkey Breast, No-Bake Peppermint Cheesecake Pie, and more, all of which significantly reduce the amount of added sugars.
SweetLeaf® Stevia Sweetener has no sugars, zero calories or carbs, no artificial ingredients, and is gluten-free with a non-glycemic response. From SweetLeaf's natural and organic packets, to fruit-flavored Water Drops™ for a yummy upgrade to still or sparkling water, to the delicious flavors of Sweet Drops™ in everyday beverages and foods, the SweetLeaf family of products adds award-winning taste without the negative health effects of excessive added dietary sugars.
###
About WISDOM NATURAL BRANDS®
Gilbert, Arizona-based Wisdom Natural Brands® is the parent company of two highly respected and award-winning consumer brands: SweetLeaf® Stevia Sweetener and Wisdom of the Ancients® herbal teas. For 35 years now, Wisdom has been the leading stevia expert and industry pioneer. SweetLeaf is the stevia sweetener with zero calories, zero carbohydrates, a non-glycemic response, no sugars, and no artificial ingredients. The only stevia brand to be named a Top Wellness Company and to receive 29 global awards for taste and innovation, SweetLeaf is sold in boxes containing 35 or 70 packets, shaker jars for easy home use, and SweetLeaf SteviaTabs®, dissolvable tablets, for on-the-go use. Offering consumers additional high-quality choices, SweetLeaf Organics are sold in 35- and 70-count packet boxes and a shaker jar. SweetLeaf SugarLeaf® bonds SweetLeaf Stevia® and cane sugar for a low-calorie sugar alternative that is perfect for baking and cooking with 2/3 fewer calories than sugar. SweetLeaf 2-oz Liquid Stevia Sweet Drops™ add flavor, without calories, carbohydrates, or artificial ingredients, to foods and beverages. SweetLeaf Water Drops™ add delicious flavor to still or sparkling water.
Additionally, Wisdom of the Ancients® herbal teas, from energizing Yerba Maté Royale® to calming Sympacho®, are available in tea bags and loose tea and come in a variety of beneficial flavors. SweetLeaf and Wisdom of the Ancients products can be purchased online at Shop.SweetLeaf.com or in grocery and health food stores throughout the U.S. and Canada.