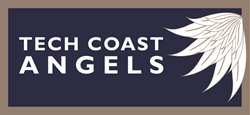 IRVINE, Calif. (PRWEB) December 14, 2017
Twelve members of Tech Coast Angels were recognized as being most influential contributors in their community in the Los Angeles Business Journal, Orange County Business Journal, San Diego Business Journal, and San Fernando Valley Business Journal.
"It is rewarding for us when our members are recognized by esteemed entities such as each local area Business Journal for the work they do, for the wisdom they impart, and for the influence they impress on their communities," said TCA president Jeff Draa. "TCA's Board of Governors congratulates all of those recognized."
Los Angeles Business Journal's most influential list, LA500, includes TCA member Jim Thomas.
Orange County Business Journal's OC500 list honored TCA members Amir Banifatemi, Ray Chan, John Kensey, Richard Sudek and Grant Van Cleve.
San Diego Business Journal's SDBJ500, included TCA members Sam Attisha, Mike Fuller, Susie Harborth and Ashok Kamal.
Mike Panesis was acknowledged in San Fernando Valley Business Journal's Valley 200, the publication's listing of most influential people in the region.
About Tech Coast Angels:
Tech Coast Angels (TCA) is one of the largest and most active angel investor networks in the nation, and a leading source of funding for seed-stage and early-stage companies across all industries in Southern California. TCA members are accredited investors who individually invest in startup companies, and as a group, TCA has invested up to $6M in a single company. The companies TCA invest in go through well-structured, transparent, and time efficient screening and due diligence. TCA members are themselves founders and executive level business leaders who have extensive knowledge in the investment process and world-class business practices. TCA members thus provide companies with more than just capital; they also contribute counsel, mentoring and access to an extensive network of investors, customers, strategic partners and management.
TCA is a catalyst in the growth of the thriving Southern California entrepreneurial ecosystem of innovation, funding mostly emerging technologies and life science companies. The most recent Halo Report rated TCA as #2 nationally in a number of funded deals. A recent analysis by CB Insights ranked TCA #1 out of 370 angel groups on "Network Centrality" and #5 overall in "Investor Mosaic." Since its founding in 1997, TCA has invested about $200 million in more than 345 companies and has helped attract more than $1.5 billion in additional capital/follow-on rounds, mostly from venture capital firms. For more information, please visit http://www.techcoastangels.com.
For more information:
Kimber Smith Fidler
For Tech Coast Angels
kimber(at)smithfidler(dot)com
###