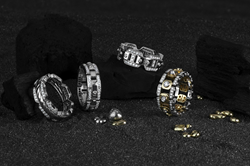 Changing the men's wedding band game... One ring at a time
NEW YORK (PRWEB) January 15, 2018
Filling a void of exciting, stylish and cool wedding bands for men has been an elusive market for many years. Simply because it's always been kind of elusive knowing exactly what men want? Few jewelers or brands have taken the time to develop a signature collection that was stylish enough for the modern man to identify with, yet sleek enough to call a symbol of eternal love. Signature wedding bands has always been a huge deal for women, with various stone cut options and designs to choose from among other things. Today, men are increasingly wanting their forever band to be a knockout signature piece that represents an expression of their individual style. Thus far, the options have been extremely limited to classic cuts, metal choices and the option of with or without diamonds – That's simply not enough for today's modern beau. They want their rings to be a symbol of who they are and who they married just as much as women do.
Almost everything under the sun in fashion and accessories has been redone, reinvented and brought back, everything except Men's wedding bands. Why is that? When we know for a fact that men are caring more about shopping and style and having curated pieces now more than ever. Thus, we see subscription boxes for styled pieces and an increased eye on the pulse of men's fashion with the addition of New York Fashion Week Men's. These are just a sign of the times, men want to be as relevant and intentional with their style as their female counterparts. Breeding a whole new generation of mature, signature and stylish men's wedding bands is New York based luxury jewelry design-duo and diamond aficionados at the Rockford Collection.
With legendary poise and architectural grandeur, the Rockford collection is the New luxury men's ring collection for the modern man with style and a pedigree to be announced. Designed and developed by seasoned veterans in the Diamond and jewelry industries is a set of men's wedding bands to be coveted by the classic band wearers. Changing the men's wedding band game one ring at a time; The Rockford collection sets to be a staple among the young elite looking for that special touch at an affordable price point.
The Rockford Collection's debut collection: American Legend is one with a unique story attached to each ring, much like the individuals getting hitched. Each ring is named after gold mines around the United States, with names such as Cortez and Getchell, and carefully crafted with genuine, hand selected diamonds and the finest quality gold. Each ring is sure to become the emblem of a lifetime of style and love.
No kidding why this collection is being branded as strictly for the best dressed and priced as an affordable luxury. It's only a matter of time before the Rockford collection is sweeping the luxury men's jewelry industry by storm. Finally, men can boast of their timepiece and the only other jewelry piece most men wear – and the most significant piece – their wedding band.
Find your signature ring today! Available exclusively online at http://www.rockfordcollection.com
Attachments: Pictures and articles
https://www.dropbox.com/sh/22wtl9uha091s00/AACBf9amuNqwkd8MnBI8kRdRa?dl=0
Facebook (30k): https://www.facebook.com/rockfordcollection/
Instagram (10.5k): https://www.instagram.com/rockfordcollection/