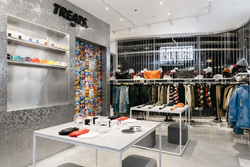 MANHASSET, N.Y. (PRWEB) December 15, 2017
J.Mendel
From fur and ready-to-wear to accessories and even a sprinkling of bridal, J.Mendel returns to Americana Manhasset with a brand new boutique showcasing the full evolution of the brand. From shimmering lace dresses and glamorous leopard print coats to Haute Couture gowns and awe-inspiring furs, wearing a J.Mendel design is an experience like no other. Look for J.Mendel, open through the winter season, on the north side of the Americana, adjacent to Cartier and Salvatore Ferragamo.
James Perse
The king of casual sportswear has planted his flag at Americana Manhasset. James Perse offers a well-edited selection of high quality basics for men and women, as well as travel-friendly accessories, including bags and shoes, and cozy home pieces. Our Perse boutique offers a luxe, minimalist feel – the perfect complement to the neutral-colored classics that work from weekday into weekend. We invite you to discover the soft V-neck tees, breathable black button downs and comfy grey cotton pants! Find the boutique between Bluemercury and Zimmermann.
Kith and Kith Treats
Kith and Kith Treats have arrived! The sought after New York brand has partnered with Hirshleifers to launch a permanent shop-in-shop housed within the MRKT space. As with all of Kith's shops, this new space was designed in conjunction with Snarkitecture and retains the brand's key visual aesthetic. Materials such as marble, glass and stainless steel decorate the interior, while Kith neon signs act as a beacon to customers. The shop-in-shop is housed within a rounded glass fin wall, which allows shoppers to see inside from the exterior. Kith's cereal bar extension, Kith Treats, also resides within the space, and features a retractable door emblazoned with vintage cereal box graphics. In classic Kith fashion, an array of casted Air Jordan 7's surround the perimeter. The new shop stocks all of Kith's latest apparel and footwear releases for men, women and kids.
Philipp Plein
Merging the worlds of rock 'n' roll with an abashedly luxurious lifestyle, Philipp Plein's debut at Americana continues the designer's desire to create a presence in centers of luxury. The German-born, Swiss-based designer's second New York boutique – his first on Long Island – is quintessentially dark, flashy and trendsetting. A large black skull studded with tens of thousands of Swarovski crystals anchors the entrance while the entire store is covered in plush wall-to-wall black carpeting with high-shine fixtures, textured displays and furniture with accents of hexagonal shapes. The boutique offers the full line of men's and women's wear, accessories, handbags, shoes, and jewelry. Look for Philipp Plein next to David Yurman and the Hirshleifers Shoe Salon.
Roberto Cavalli
Americana Manhasset has also welcomed Roberto Cavalli this season. As Long Island's only destination for the luxury Italian fashion label, the store carries the brand's women's and men's wear lines, as well as home, eyewear and accessories all under one roof. Now under the creative direction of British designer Paul Surridge, an expanded offering of sensual yet elegant daywear has arrived, beautifully complementing the scintillating evening wear the Florentine fashion house in renowned for. Find Roberto Cavalli adjacent to Burberry and Fendi.
We invite you to visit our newest boutique additions, as well as our collection of 60 fine shops including Hermès, Chanel, Louis Vuitton, Gucci, Cartier, Ermenegildo Zegna, Van Cleef and Arpels, Bottega Veneta, Hirshleifers, Ralph Lauren, London Jewelers, Tesla and more, all within a unique outdoor environment designed by renowned architect Peter Marino and landscape designer Oehme van Sweden. Americana Manhasset offers a complimentary Personal Shopping Service, a remarkable luxury fashion and gift resource. Located on Long Island's beautiful North Shore, Americana Manhasset is 20 miles from Manhattan and 50 miles from the Hamptons.
For more information, please visit http://www.americanamanhasset.com. Follow us on Instagram and Twitter at @americanashops. Like us on Facebook and check us out on YouTube.