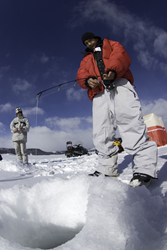 GRAND COUNTY, Colo (PRWEB) December 16, 2017
True fisherman are not content to forget their passion just because of a little ice. During the winter, ice fishing provides an opportunity to not only bask in beautiful scenery, but also the chance to catch "the big one." With two different ice fishing contests taking place in early 2017 in Grand County, big prize purses also sweeten the experience.
30th Annual 3 Lakes Ice Fishing Tournament
Granby: Jan. 26 – 28, 2018
Three days, three popular lakes (Lake Granby, Shadow Mountain Reservoir and Grand Lake) and more than $18,000 in cash and prizes from Yeti, Jiffy Ice Augers, Clam, Vexilar and more, makes this the perfect event to kick off the 2018 competitive ice fishing season. Prizes are awarded from 1st to 7th place in four categories; each day is a separate tournament. Other events include a Big Fish drawing category and five tagged fish worth $1000 will be released.
Participants of all experience levels are welcome. Entry fees are $35 for one day, $45 for two days and $50 for all three days. You must be registered prior to fishing to be eligible for the contest. Entry includes a door prize ticket and the first 500 registrants receive a collectible commemorative hat. For more information visit http://www.granbychamber.com.
21st Annual Wolford Reservoir Ice Fishing Contest
Kremmling: Feb. 17, 2018
Though this competition lasts just one day (6 a.m. – 3 p.m.), there's enough action to satisfy even the most competitive fisherman. Prime your hook for the $10,000 tagged-fish competition, hourly big fish prizes, and the top 10 largest fish will all share in a cash purse of nearly $5,000, with first place taking $1,200.
Registration is $35 for an adult entry or youth entry (15 years old or younger) who wants to compete for the cash prizes. Otherwise there is no charge for 15 years old or younger. There's also a free youth division with prizes for the top 10 largest fish. For more information or to register, visit http://www.kremmlingchamber.com.
Whether it's as a participant or spectator, there's nothing like spending a day on the ice. Grab your rod, your best lures and mark your calendars for one or more of these fish-focused festivals. You never know what you might reel in!
# # #
About Grand County
Located 67 miles west of Denver, Grand County is home to wide-open spaces, breathtaking mountain scenery and authentic old-west towns. Outdoor recreational activities include golf, boating, fishing, biking, hiking, fishing, hunting and horseback riding.
The area features more than 600 miles of mapped and marked trails, one national park, one national forest, two wilderness areas, two national scenic byways, two major ski resorts, five world-class dude ranches and four mountain golf courses. Grand County's extensive water network includes Colorado's largest natural lake, 1,000 miles of streams, 1,000 acres of high-mountain lakes and 11,000 acres of reservoirs. Download Grand County's new mobile app at
http://www.visitgrandcounty.com