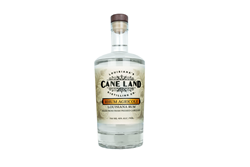 BATON ROUGE, La. (PRWEB) December 16, 2017
Walter Tharp, founder and President of Cane Land Distilling announced the release of their newest spirit today, Rhum Agricole, which will be available starting December 22nd. Most all rum is made from molasses, which is shelf-stable. Rhum Agricole is made from fresh-pressed sugarcane juice, which can spoil within hours of pressing. Direct access to the sugarcane farming and milling process is essential to successfully produce Rhum Agricole, which Cane Land luckily has in enormity. Rhum Agricole is rarely produced domestically due to the agricultural and logistical constraints of manufacturing.
Cane Land is owned by Alma Plantation & Sugar Mill, which qualifies it as a single estate distillery. Alma grows, harvests, and mills the sugarcane into juice, sugar, and molasses, which Cane Land ferments and distills into their premium line of spirits. Alma produces close to 400 million pounds of sugar and 10 million gallons of molasses annually. Located in the south Louisiana Delta, Alma sits on land that was previously the river-bed of the Mississippi River and home to some of the richest alluvial soil in the world. The earthy Rhum Agricole produced by Cane Land is a true expression of south Louisiana terroir.
"Since the day Cane Land was formed, producing an exceptional Rhum Agricole was our goal. We could not be more excited to release this rare spirit from our first full sugarcane harvest as a single estate distillery," Tharp stated from the tasting room of his downtown distillery.
Cane Land will also have a release party on January 5, 2018 at their facility at 760 St Philip Street, Baton Rouge, LA 70802 starting at 6pm.
Contact
Cane Land Distilling Company
info(at)canelanddistilling(dot)com
(225)615.8044