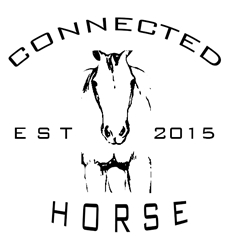 "Being with horses miraculously allows us to feel what we are often unable to articulate with words — liberating the senses to experience emotional connections to something much deeper." –Paula Hertel, MSW
Rocklin, CA (PRWEB) December 15, 2017
Connected Horse, a leader in equine assisted interventions for people affected by dementia, has wrapped up its 2017 Equine Assisted Workshops and research at University of California, Davis with promising results. Over the course of two years, over 70 people have participated in the research workshops and its community programs. The unique approach of both people with early stage dementia and their care partners participating together has proven to be a powerful tool for participants. The overall whelming response has been that experiencing something new together is exciting and it helps erase the roles and old patterns. The horses have unconditional acceptance and don't judge people by a label or a diagnosis.
The Connected Horse study is the first of its kind to assist people with early stage dementia and their care partners. The interest in the therapeutic effects of Human-Animal Interaction is gaining momentum as programs see positive outcomes with a variety of populations. The Connected Horse program establishes an evidence-based model utilizing Equine Assisted Interventions for people affected by dementia.
The research
Over the course of 2017, 34 more participants took part in Connected Horse's continued research through workshops exploring how guided work with horses might improve the lives of people with dementia along with their care partners. The study is a joint project of UC Davis School of Medicine, UC Davis Center for Equine Health, and the Connected Horse a not for profit organization.
The research showed significantly improved scores in feelings of social support and reduced feelings of depression. In addition, participants reported increased feelings of confidence, hope, self-awareness and better sleep quality.
The human-horse connection is especially powerful as the nonverbal responses and behaviors of horses often act as mirrors to participants and help to provide clarity, strength and healing. Connected Horse workshops are designed for people living with early stage dementia and their primary care partners (typically a spouse, friend, family member).
The workshops include a series of three to seven days of facilitated programs with horses. No prior experience with horses is necessary. Participants do not ride; they engage with horses from the ground.
The experienced facilitators lead participants through a variety of activities including observing horses in pastures or stalls, over the fence introduction to horses, grooming, leading. The group exercises facilitate how horses will teach participants to gain awareness, relax and self regulate personal responses.
The work with the horses and facilitators helps participants to gain clarity, adjust patterns, define changing roles and release emotions; such as fear, grief and negativity while learning to be fully present in the moment.
Connected Horse outcomes include:

Ability to Relax and Gain Trust and Confidence
Awareness of Internal and External Responses
Learn to Become Present
Practice Stress Reduction Strategies
Strengthen Communication and Relationships
In addition to the research, Connected Horse launched a community collaboration with Xenophon Therapeutic Riding Center a nonprofit in Orinda, CA. Connected Horse and Xenophon provide 8 weeks of successful workshops for participants in the east bay.
Why Horses
"Being with horses miraculously allows us to feel what we are often unable to articulate with words — liberating the senses to experience emotional connections to something much deeper." –Paula Hertel, MSW
Horses are masters of perception, connection and caring; they have a profound, immediate and lasting effect on persons living with dementia and their care partners. The connection between people and horses is proven to be therapeutic in many populations due to the nonjudgmental, unconditional interactions animals offer humans. The human-horse connection is especially powerful as their behaviors often reflect the energy or emotions of the participants. Their responses can lead to deeper understanding and self-compassion
In 2018
Connected Horse will expand its groundbreaking workshops at University of California Davis to include a more longitudinal look at the possible benefits of equine assisted interventions. Also Connected Horse will be conducting additional booster workshops 3-6 months after the initial workshops are conducted, to track progress.
In addition, Connected Horse is offering New Facilitator Training and Certification. The Facilitator Training and Certification is designed to teach the Connected Horse Equine Assisted Interventions to people interested in becoming certified in the Connected Horse facilitation. The training utilizes the Connected Horse evidence based approach to equine assisted interventions, best practice approaches in successful psycho/social techniques for people living with dementia, and the fundamentals of pair and group work strategies.
Besides research, Connected Horse is developing a facilitator guide and searching for other equestrian sites and partners to implement the program for those affected by dementia in California and throughout the United States.
The Connected Horse continued research will add to findings from the University of California, Davis studies conducted last year as well as from data gained through preceding workshops completed in conjunction with Stanford University's School of Medicine and the Stanford Red Barn Leadership program.
Those interested in participating in a study or a Facilitator Training and Certification should complete an inquiry card at connectedhorse.com/contact and contact the group at 916-708-4904.
Leaders
Connected Horse Founders Nancy Schier Anzelmo, MSG, and Paula Hertel, MSW, are widely respected consultants to the senior living industry. For over 20 years, each has staunchly advocated for and helped implement quality person-centered dementia care programs in senior living communities.
# # # # #
About Connected Horse Project
The Connected Horse offers human-animal connection and engagement programs, tools and products that encourage and support individuals living with dementia diagnoses, care partners and professionals. It is focused on offering equine-guided workshops that support people affected by dementia. The workshops provide the opportunity for people living with early stage dementia and their care partners to be together as they experience non-riding activities with horses. The power of the human-horse connection helps participants not only feel relaxed, confidant and happy in the moment, they also learn about self-compassion, stress reduction strategies and communication and awareness practices. To learn more about Connected Horse Project visit http://www.connectedhorse.com