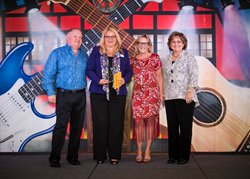 "I am eternally grateful to Kathy Post for her commitment to community. She's simply the best when it comes to getting things done."
PORT ST. LUCIE, Fla. (PRWEB) December 16, 2017
Kathy Post, Owner and CEO of Post Insurance in Port St. Lucie, has received the United Way's 2017 Spirit of St. Lucie Community Angel Award.
Post was selected for her dedication in supporting area non-profits; focusing on health, youth, and the arts. The nomination committee shared, "Kathy has grown up here, gone to school here, and owns a successful business here. Kathy is the epitome of a Community Angel. Her volunteer commitments have touched many people and many causes. She has forged deep connections – and herself is a connector of people."
The United Way surprised Post with the award in a room filled with nearly a hundred guests at their 2017/2018 Community Leader's Breakfast and Campaign Kickoff at Ballentrae Golf & Country Club.
"I was happy to nominate Kathy Post for this award," said Amy Brunjes, Regional Manager/External Affairs for Florida Power and Light Company. "I've served with Kathy many times and she is most deserving of this award. She gives selflessly because she truly wants to make a difference."
Post recently used her connections in business and volunteering to support the Volunteers in Medicine (VIM)/HANDS Clinic in St. Lucie County. She brought together the bands Rockin' RX and Relapse (made up of local doctors) to perform in front of a crowd of more than 740 people at the Sunrise Theatre. Together they raised $82,000. Sydney Liebman said, "I am eternally grateful to Kathy Post for her commitment to community. She's simply the best when it comes to getting things done."
Post is also a Girl Scout Troop Leader, serves on the Sunrise Theatre Foundation Board, and has served the St. Lucie County Chamber of Commerce, Early Learning Coalition, Children's Services Council, and Main Street Fort Pierce just to name a few.
Post thanked her mentors, fellow volunteers, and family for their support. "I am grateful and humbled to receive this honor," said Post. She also recognized her parents, Port St. Lucie Pioneers Bob and 'Butch' Post. "They instilled in me a sense of pride for the community in which we live," she said.
When asked about receiving the award, Post humbly said "I hope it inspires others to look for ways to serve. Wouldn't it be great if everyone made one small change in the world?"
For more information about the United Way of St. Lucie County or Kathy Post and Post Insurance, please visit http://www.unitedwayslc.org/ or http://www.insurewithpost.com.