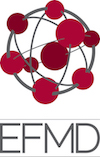 EFMD membership shows the commitment of Monarch to continual improvement of the programs on offer.
(PRWEB) January 15, 2018
Monarch Business School Switzerland is proud to announce that it has received membership with EFMD the premiere accreditation association for business schools in Europe. Membership with EFMD highlights Monarch's drive for continual improvement regarding the quality of its programs on offer.
EFMD is a global, membership driven organisation, based in Brussels, Belgium, with offices in Asia and the Americas. As the largest international network association in the field of management development, the EFMD network includes nearly 900 institutional members and reaches over 30,000 management development professionals from academia, business, public service and consultancy across 86 countries worldwide. Business school members include IMD, INSEAD, IE, LBS, Wharton, HEC Montréal, PUC Chile, INCAE, Antai, Korea University, CEIBS, University of Sydney, IIM Ahmedabad, Stellenbosch and many other leading schools from around the world. https://www.efmd.org/
Monarch Business School Switzerland is a leader in applied graduate education and research in management. In achieving this aim we strive to provide our students with the knowledge, skill and learning environment that enables the creation of core competencies for the advancement of their academic and business careers. Monarch Business School seeks to merge the rigours of academic training with the practicality of business insight to produce strong business and academic leaders that maintain a sustainable and ethically centered approach to competing in a globalized marketplace. PhD, DBA, DLITT and Doctor of Management programs on offer. http://www.umonarch.ch