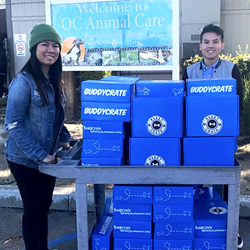 SANTA ANA, Calif. (PRWEB) December 15, 2017
Buddy Crate, a subscription box service created for dog owners, moves towards collaborating with local OC animal shelters. In honor of celebrating National Adopt a Senior Dog Month, Buddy Crate partnered up with OC Animal Care, a shelter based in Orange, CA. In November, OC Animal Care hosted their "So Much Left to Give" event, a free adoption day for pets ages 4 and older. The event, sponsored by Orange County's Fourth District Supervisor Shawn Nelson, was highly successful as over 60 pets were adopted throughout the day. Members of the Buddy Crate team volunteered at the event and gifted free boxes from their subscription service to newly adopted dogs.
"It was really awesome to see such a huge turnout at the event. The staff and volunteers were friendly and it was inspiring to see how passionate they were towards this cause," comments Francis Nguyen of Buddy Crate. "We hoped that bringing home a free Buddy Crate box made the transition to being a new dog owner easier for everyone. I loved seeing how excited everyone was to see what was inside the boxes. Everyone at Buddy Crate hopes that the shelter is able to have more great events such as this one. We definitely want to offer our support again and be able to provide amazing toys and treats to amazing animals."
Buddy Crate donated 50 boxes valued at $2,000 to support the shelter and new dog owners. Public Education Officer of OC Animal Care, Brittany Hayes remarked "everyone was really happy to get the free boxes! It was already exciting to be bringing home a new pet, and getting a box full of treats and toys made it even better. It was definitely nice sending everyone home with a starter kit." Continuing the successful event, Buddy Crate created a special donation program with OC Animal Care. By using a special referral code, proceeds of Buddy Crate subscriptions will go towards OC Animal Care.
The Buddy Crate subscription contains personalized boxes according to the dog's size with an assortment of high-quality toys and organic dog treats sourced in the US.
Prior to their new collaboration, the company's in-house charity, Pawsible, has been donating a proceed of box purchases to dog shelters in the area. The company also wants to continue to reach out to more animal shelters in the area and extend their social platforms to helping spread the word about local shelters efforts.
If you are part of a shelter or animal organization and want to learn more about partnership opportunities, contact patricia@buddycrate.com.
To learn more about Buddy Crate, purchasing, or gifting please visit http://www.buddycrate.com
About Buddy Crate
Buddy Crate works year-round to deliver a premium box subscription service to animal lovers and their dogs. Under Buddy Crate, Pawsible's ultimate goal is to deliver charitable donations from Buddy Crate to local animal shelters to help dogs find a home. For more, visit http://www.buddycrate.com