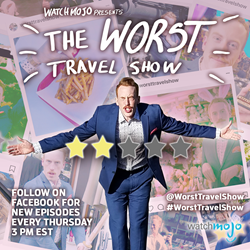 (PRWEB) December 15, 2017
Following the launch of internet-media powerhouse WatchMojo's WatchMojo Studios, the Montreal-based company proudly announces its new original travel-comedy web series, The WORST Travel Show, which premiered on Facebook Watch December 14, 2017. Facebook Watch is a new type of video platform on Facebook, which allows people to view episodic content on their mobile, desktop, or Facebook TV app.
There are too many reviews on the internet and nobody agrees! The WORST Travel Show is visiting the most "controversially-rated" establishments to set the record straight. In season one, professional unknown actor/aspiring travel vlogger Kyle Gatehouse--playing a hilariously heightened version of himself-- sets out on a tour of Los Angeles, stopping everywhere from overrated tourist traps to nightmare-inducing motels.
Employing a community-engaging, multi-platform storytelling approach, The WORST Travel Show's reviews will be posted across social media, allowing fans to interact with the series' host, while encouraging them to join in on the social conversation.
WatchMojo Founder and CEO Ashkan Karbasfrooshan views the production as the natural evolution of a journey that began in 2006, when web video was at its infancy: "We've been producing original web video for over a decade. With over 20 million subscribers, 10 billion all-time views, 50 billion minutes of watch time and 250 million monthly views, we are the tenth largest channel on YouTube based on subscribers and views. As we grow exponentially, WatchMojo Studios' launch on Facebook Watch with The WORST Travel Show is an organic next step. We're incredibly proud of the series and excited to see how viewers react."
WatchMojo Studios continues to develop longer form content for a variety of media and distribution outlets, promising quality programming to demographics currently underserved by existing online offerings. WMS' recent slate includes: The Lineup, a Telly Award-winning sports game show, The Bolt To E3, a branded content series that was produced in partnership with Chevy, NVIDIA, & Nintendo, and two YouTube live events shot in New York City and London.
The WORST Travel Show is available now on Facebook Watch. If you're watching in the U.S you can find the episodes on Facebook Watch. If you're watching from anywhere else in the world, you can view them on The WORST Travel Show's Page on Facebook.
CREDITS
Executive Producer ASHKAN KARBASFROOSHAN
Executive Producer ROSIE KOMADINA
Writers CHRIS MASSON, CAREY LUNDIN, KYLE GATEHOUSE
Director CAREY LUNDIN
Producers JON MICHAEL KONDRATH, LESLEY LOPEZ
Producer JOHN HEINSEN
Story Producer CHRIS MASSON
Starring KYLE GATEHOUSE
Field Producer JOHN THOMAS SCHRAD
Researcher JOSHUA SELINGER
Camera Operators MICHAEL McCLURE, JOE ROSENBLIT
Production Sound LEANDRA DICHIRICO, MATT PACAULT
Production Assistants KAREN LEE COHEN, RYLAND SWARTZ
Editors PETER FRINTRUP, VIKTOR METELEV
Color Grading FLICKERING DUCK PRODUCTIONS
Graphics MAX LETT, CHRIS MASSON
WatchMojo
Chief Executive Officer ASHKAN KARBASFROOSHAN
General Manager ROSIE KOMADINA
Marketing Coordinator MICHELLE AIKMAN-CARTER
Social Media:
Instagram: @worsttravelshow
Twitter: @worsttravelshow
#WorstTravelShow
About WatchMojo
The most successful media brand ever built on YouTube, over the past decade WatchMojo's 20 million subscribers have spent 50 billion minutes watching 10 billion videos on pop culture and infotainment. WatchMojo owns and operates the tenth-largest channel on YouTube, whose Top 10 lists have become a pop culture phenomenon, generating over a billion minutes of organic engagement each month. The company now counts seventy full-time employees in Montreal, New York City, Los Angeles, and London.