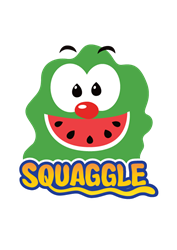 EMBARGOED, Sydney (PRWEB) December 19, 2017
Introducing Squaggle, the answer to screen time squabbles, a tablet designed with kids in mind, with 62 award-winning 'edutainment apps' for children. Following the release of recent findings from The Royal Children's Hospital in Melbourne* that highlighted that almost 2 in 3 families (62%) had reported conflict due to the use of screen-based devices, it only further reinforced why it is essential that a solution be found.¹
Squaggle is home to 324 games, puzzles, and books with a value over $151. There is an endless supply of stimulation for mini screen-timers. Each of the apps has passed Squaggle's rigorous screening process and foster independent learning in children by nurturing their curiosity and creativity. Squaggle promotes play, interaction, touch, thinking, watching, reading, and listening to expand your kids' minds.
Adrian Tobin, Squaggle co-founder and a parent with three kids, has first-hand experience of the challenge. "My kids spend too much time on mindless, time-wasting apps, full of ads and in-app purchases resulting in stressful screen-time for both my kids and me.
"I would have to fight with them when it was time to get off their tablet and was often seen as the ogre for being so unfair. A big concern of mine was that they had unlimited access to websites and videos, despite my best efforts to implement parental controls.
Squaggle co-founder Bill Rafferty said: "If we can help families reduce the screen time squabbles and make it a positive force in kids' lives, we'll all feel very proud and excited to provide Squaggle as a positive solution." Coming from a technical background, Adrian set out to find a solution to these problems – Squaggle was born with a vision to make screen time a positive force in children's lives. It is vital that they have access to quality content in a safe, supportive environment. Following two years of designing, building and testing Squaggle is now a reality. Co-founder Adrian has worked with 61 manufacturers, has tested over 21 sample tablets, and played more than 650 apps to ensure that Squaggle is the ideal solution to screen-time squabbles. A testament to the quality of the selection of award-winning 'edutainment' apps, they have been downloaded over 90 million times. Squaggle's crowd-funding campaign to raise funds to pay for the first production run begins on December 15th, 2017 and will run for 60 days, with a fundraising target of $300,000 US dollars. Squaggle makes learning child's play, by providing a smart, safe solution, while also being flexible and entertaining. More information can be found here: https://www.kickstarter.com/projects/1528618488/put-an-end-to-screen-time-squabbles-with-your-kids/community
For more information, imagery or interviews with the founders, please contact Lisa Hollinshead at Hollinshead Comms 101 on Lisa@hollinsheadcomms101.com or call 0420579386.
About Squaggle
Squaggle is an Australian company with a mission to make it easy for parents to ensure screen time is safe and educational for their kids. Squaggle is available as an App for Android smartphones and tablets, and as a Tablet primarily designed for kids.
Bill Rafferty, Squaggle co-founder has a wife and two sons, aged 2 and 6. He describes himself as a happy husband, father, and geek with over 15 years' experience in online services and information technology. He grew up on the northern beaches of Sydney and is now returning after spending over ten years working in London. Bill is looking to focus his time and skills on opportunities that would put his family first and leverage his experience and passion for technology and innovation being a positive force in our lives.
Squaggle Tablet is the perfect size for kids, featuring a large 8-inch high-definition screen and a 'kidtough' case. It comes in kid-friendly colours and is drop- and scratch-resistant.
Squaggle comes with features to ensure parents don't have to worry about what their kids are doing. These include:
· Time controls (no more fighting to get them off the tablet!)
· Blocks inappropriate websites, videos, and in-app purchases
· The best award-winning edutainment apps
· Access to Google Play in PIN-protected parent-mode
¹https://www.rchpoll.org.au/polls/screen-time-whats-happening-in-our-homes/