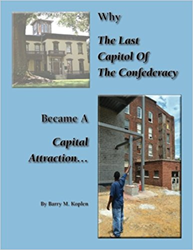 LOS ANGELES (PRWEB) December 14, 2017
Award-winning author and publisher Barry M. Koplen released his latest historical book, "Why The Last Capitol of The Confederacy Became A Capital Attraction," in May of this last summer. The book depicts the revival of the historical downtown of Danville, Virginia as seen through the eyes of the men and women who made that possible. Long considered dead, Danville's downtown has experienced a resurgence that rivals that of many southern cities, even larger ones, because of its wealth of structures that have provided block after block of living history. During the eighteen months spent writing Why The Last Capital Of The Confederacy Became A Capital Attraction, Koplen has tracked Danville's resurgence in ways that explain why the population of the downtown has gone from near zero to more than 1400 residents. The book was met with rave reviews from readers across the country immediately after its release:
"What a exceptionally told story of a historical city's history and recent resurgence, with great illustrations! Koplen really captures the vitality that has become an irresistible feature of historical downtown Danville!" Julie Benson - Denver, CO
"Reading 'Why the Last Capitol of the Confederacy Became A Capitol Attraction' is like a Ken Burns adventure into an epic story of grandeur. The people involved come alive with Mr. Koplen's narration and rich pictures. When he takes you into an antebellum building, the imagination jumps. The future leaps from the pages as you look & 'listen' to the men & women responsible for Danville's transformation. A fascinating and fun read!" John Andrews – Los Angeles, CA
"This book is a great read and a joy to roam through. Koplen takes us through the countless phases of Danville's history and prominence, and which can also be seen as a microcosm as the trajectory of most American historical cities." - Edward Hasgard – Westfield, MA
The "Best of Los Angeles Award" community was formed three years ago and consists of over 3,700 professional members living and working in Southern California. It celebrates the best people, places and things in Los Angeles with a slogan "No Ads. No B.S. Only the Best."
"The mission of the community is to celebrate the best of Los Angeles, and allow its community members to connect with other members who share the highest standards of quality and integrity," said DeRose.
"I am honored to receive this award from the Best of Los Angeles," says Koplen. "I worked hard to write an interesting and informative book on the complex resurgence of one of the most historical and unique places in our country."
To learn more about Barry M. Koplen and his work, visit his book's Facebook page.